The UCO is seized in Cádiz of the largest stash of injectable EPO in Europe
This illegal activity would have been carried out for at least the last ten years, according to the Civil Guard
As reported La Vanguardia, an operation carried out last spring that has come to light today because the first priority was to cut the flow of the substance.
It is legal erythropoietin (EPO) from a dialysis clinic in Cádiz that was then fraudulently diverted.
From Barcelona shipments were made to all of Europe through courier services and false documentation. These prepared injectables were highly prized for being legal.
More than 850 injectables and 6 people arrested
As reported by the Civil Guard, in the Hypoxianet operation more than 850 injectables have been operated, which is the largest seizure in Europe of this type of EPO.
A total of six people have been arrested and / or investigated in Barcelona and Cádiz for alleged crimes against public health, belonging to a criminal organization, money laundering, misappropriation, fraud against social security and false documents.
The network offered doping substances through websites
The UCO has managed to dismantle an entire criminal organization dedicated to the illegal abduction and export of EPO.
They offered their doping products through websites and for communication between buyer and seller they used encrypted instant messaging networks through an Austrian telephone operated from Spain. Those interested were people from different sports disciplines
When customers selected the substances they wanted they had to pay through money transfer companies, bank transfers to international accounts or through cryptocurrencies to facilitate anonymity.
The order arrived with cold plates whose thermal inertia was insufficient, but thus achieved a false appearance of pharmaceutical safety.
The network operated thanks to several citizens of Serbian nationality, one of them based in Barcelona.
The EPO was obtained from a person in charge of a dialysis clinic in Cádiz.
This falsified the data necessary for the realization of the orders in the files of his patients, in order to keep the surplus medicine and sell it.
Once the medication was stolen, it was stored in a warehouse in Cádiz and then sent to the buyers.
This illegal activity would have been carried out since at least the last ten years according to the Civil Guard.
We still have to analyze all the information collected, but it is assumed that the total amount defrauded to Social Security will be really high.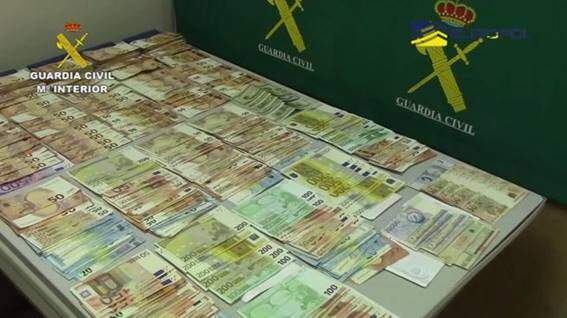 More than 70.000 euros have been seized in cash (Civil Guard)
The EPO was sold through seven websites that have already been closed
The UCO has closed seven websites in which various types of medications such as hormones and steroids were sold, in addition to injectable EPO.
Among the clients, whose names have not come to light, there were federated and amateur athletes both nationally and internationally.
The Court of Instruction number 4 of Cádiz will send the list with the names of the buyers to the World Anti-Doping Agency (WADA).
The task of closing the web portals has not been easy because all the domains were hosted in servers from countries like Iceland or tax havens like New Jersey, where legislation is more permissive when it comes to web hosting.
More than 800.000 euros have been blocked in different bank accounts, as well as real estate and more than 70.000 euros in cash.