Triathlon News
Mario Mola: «Javi's return will raise the bar again»
This weekend Javier Gómez Noya will participate in a WTS in Bermuda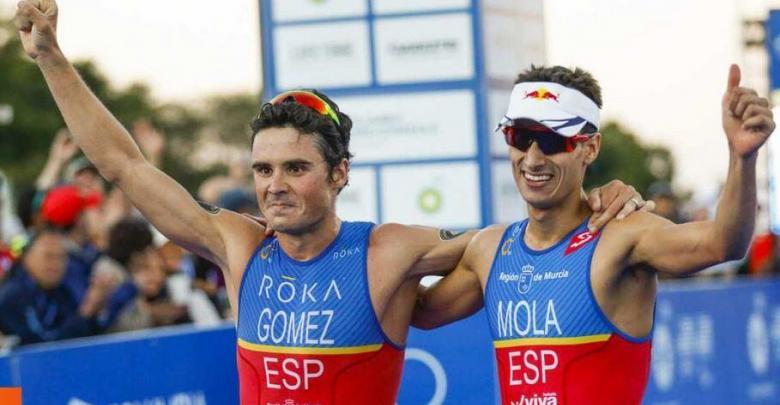 Mario Mola, talk about Javier Gómez Noya in an interview published in the Majorcan newspaper, after their concentration for the Bermuda WTS this weekend.
On the return of Noya to the WTS Mola commented:
I am looking forward to sharing a concentration with Javi Gómez Noya again. And yes, I think it will raise the bar again. I hope and trust that it will recover the level of before; let him compete well again. Personally, I want to share a trip and concentration with someone who has always been a reference
He also spoke about the quality of The "Triarmada"
Yes, what is clear is that in order to integrate this team, everyone has demonstrated ample quality. The talaverano Fernando Alarza was third in the first test. in Abu Dhabi. And Tenerife's 'Chente' Vicente Hernández comes from winning a 70.3 in Peru. All of us who will go out in Bermuda will have options.
Aren't there too many roosters, in the same pen?
No. It all comes down to a matter of character. If people are able to differentiate competition from coexistence; if you are looking for a pleasant atmosphere at dinner, meals. So being around competitive people doesn't have to cause problems. We all understand it. And we take advantage of being able to have first-rate people around us.
We are lucky to get along very well, both in the Spanish team and in my training group. Composed, among others, by the French Vincent Luis and the Australian Jacob Birtwhistle, silver and bronze in the last World Cup.
And About Alex Yee?
I think he has quality, talent and time ahead to be a future world champion; or to be in a position to win races. It has one last segment, that of the foot race, brutal. His times are impressive, not only as a triathlete, but as an athlete. As I continue to progress in the first two segments, I think he will be someone important in the near future.
Do you see Vincent Luis and Birtwhistle as your direct rivals for the title?
I hope and trust that they are. Both Jake and Vincent Luis will be. But they will not be the only ones. There will be others, such as Fernando Alarza, the French Leo Bergere; Englishman Jonathan Brownlee or South African Henri Schoeman.
It is still early. You have to wait for the first races to pass to see how everything goes; and who will end up focusing on the World Cup and who on other things.
Do you plan to do all the WTS or will you skip one?
A priori, my intention is to dispute them all. My goal is the World Cup. Halfway through the season is the trip to Canada, before returning to Europe to compete in Hamburg and return to Canada again.
It's going to be an important tute, but I think it's important to be in the races. And if one competes well, they are points that he takes away from others.