Laura Gómez European Runner-up of Triathlon Cros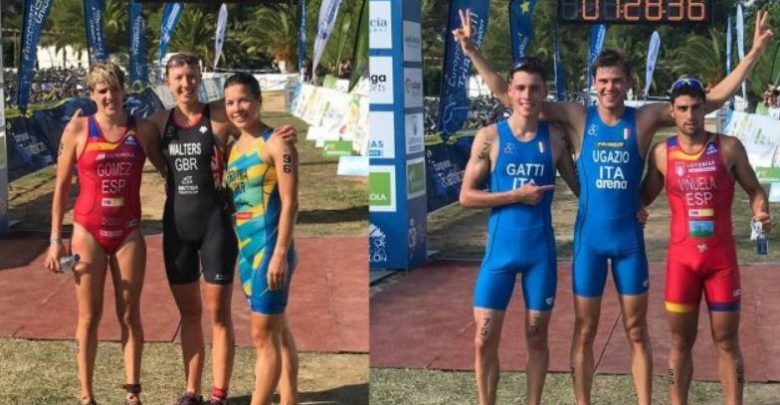 The Spanish team has won four more medals in the European Cross Triathlon that is being held in Ibiza.
In the women's test, Laura Gomez has won the silver medal and the runner-up in elite category, where the British victory Nicole Walters
The Catalan came out of the water at the top and, despite the demanding segment of mountain bike and suffer a lot during the race on foot, managed to cross the finish line a few meters ahead of the Ukrainian Sofiya Pryyma, bronze. The British Nicole Walters won the gold medal with great superiority over the rest.
As for the men's event, the victory was for Belgian Tim Van Hemel , who has achieved the "double" after his victory in the test of Duathlon Cros where the Spanish Kevin Tarek Viñuela has achieved the bronze medal in sub23 category being eighth of the general classification
In the men's competition, Leonese Kevin Tarek Viñuelas won the bronze medal in the sub23 category. The Spaniard came out of the water in first position in the race that was played jointly with the elite and sub 23 but a fall in the BTT relegated him to ninth place in the transition on foot. After regaining a position to enter eighth in the overall elite goal. The Belgian Tim Van Hemel was proclaimed European Elite Champion, completing the double after winning the European title of Duathlon Cros last Tuesday. The silver in the highest category was obtained by the French Brice Daubord and the bronze by the Italian Marcello Ugazio, who was also the winner in the 23 sub category.
For their part, in juniors the Spaniards continue to shine where Nicolás Puertas has returned to get the gold while Alfonso Izquierdo who repeated the bronze obtained in the test of duathlon cross.
Photo: Photos Ibiza MultiSport 2018