Kevin Tarek and Laura Gómez champions of Spain of Triathlon Cros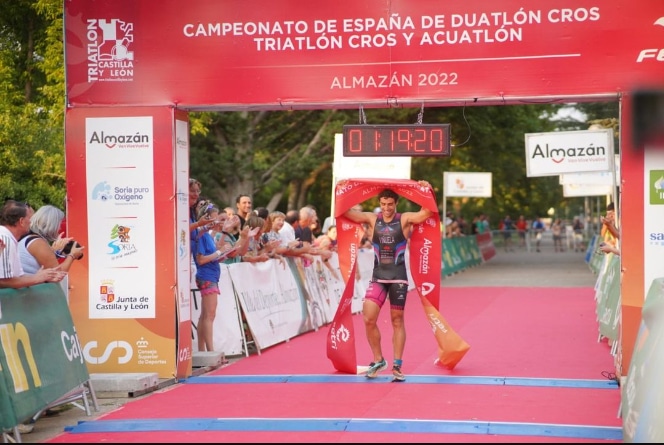 The Catalan Laura Gomez, by Saltoki Trikideak, and the Castilian and Leonese Kevin Tarek Viñuela, of the Cidade de Lugo Fluvial, proclaimed Spanish champions of Triathlon Cros in Almazán, in the second of the three appointments with medals that the town of Soriana hosts this weekend.
The men's event was won by Kevin Tarek Viñuela, who has won all the national cross triathlons held to date in Almazán, three in total, with a time in this 2022 of 1:19:17, ahead of Alfonso Izquierdo, from the Soriano Triathlon, and Joan Wager, from Saltoki Trikideak.
The sub-23 podium was for Alfonso Izquierdo, Joan Wager and Ander Michelena, from the Marlins Triathlon Madrid.
For absolute teams, Cidade de Lugo Fluvial won, ahead of Alusigma Peñota Dental Portugaletekoa and Soriano Triathlon.
On the sub-23 team podium, Stadium Casablanca Mapei was proclaimed champion ahead of Cidade de Lugo Fluvial.
In the elite women's race, Laura Gómez set a time of 1:29:47 to beat Marina Muñoz, from the Soriano Triathlon, and Saleta Castro, of the River City of Lugo.
The sub-23 podium went to Marina Muñoz; Andrea Trigo, from the Náutico de Narón; and Marisol Gómez, from Montilla Córdoba Triathlon.
For women's absolute teams, the components of Katoa Barcelona rose to the podium as champions.
Closing of the competitions on Sunday with Duathlon Cros
On Sunday, the National Cross Duathlon Championship will be held, starting at 9:11.30 am and elite starts scheduled for XNUMX:XNUMX am.
In this case, the athletes will be measured against a 6-kilometre segment of the foot race, 18 kilometers of mountain biking and a last sector of 3 final kilometers of the foot race. The first ten female numbers will be worn by Remedios Mendoza, Rocío Espada, Marta Lozano, Enara Oronoz, Celia Núñez, Laura Gómez, Besaide Astobiza, Leticia Soria and Marina Burgaya.
In men, the starting ten numbers are for: Rubén Velázquez, Roberto Mohedano, Francisco González, Roberto Prieto, Daniel Gutiérrez, Vicent Gandía, Guillermo Cuchillo, Javi García from Segovia, Jaime Izquierdo and José Miguel Gómez.