Laura Linderman wins the Banyoles World Cup with Carolina Routier and Sara Pérez in the Top 10
Carolina Routier has been eighth and Sara Pérez tenth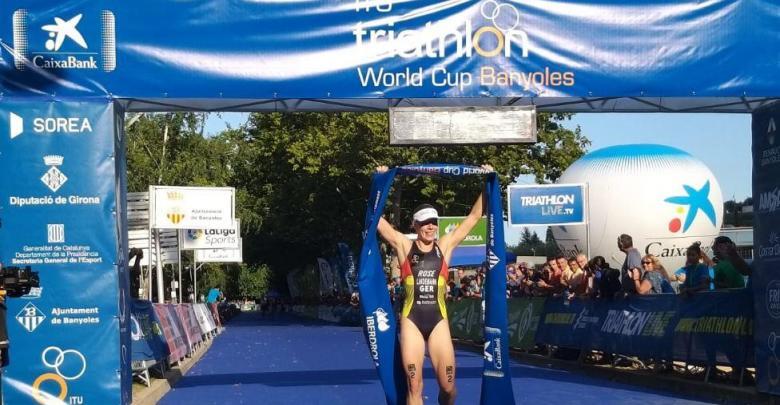 Today it has been played in Banyoles (Gerona) the feminine proof of Triathlon World Cup where in the starting line were some triathletes of the usual ones in the WTS.
One of the stars of triathlon Flora Duffy he has decided to participate at the last moment in the test, where he has achieved third place recovering sensations after his injury.
In the test, which was held on sprint distance, we had the presence of the Spanish Miriam Casillas, Caroline Routier, Anna Godoy, Sara Pérez, Xisca Tous, Marta Sánchez and Tamara Gómez
The first to leave the water was Flora Duffy followed by Sara Pérez at 2 seconds and Carolina Routier 7ª at 8 seconds.
In the cycling segment a head group was formed with 9 units with Duffy, Kristen Kasper, Laura Lindeman, Maya Kingma, Tamara Gorman, Simone Ackerman, Gilian Backhouse and where the Spanish Routier and Pérez were also.
In each lap the distance was extended to reach the T2 with 1: 15 of advantage over the chasing group.
In the first round of the race on foot, a group of 3 quickly formed with Flora Duffy, Laura Linderman, Tamara Gorman gradually distancing themselves from the rest of the group.
Finally, the German Laura Linderman with the most consistent rhythm he was leaving his companions to reach the goal alone with a time of 55: 38 followed by Tamara Gorman who has won in a tight sprint to Flora Duffy That has been third.
As for the Spanish Carolina Routier has been eighth and Sara Perez tenth. Tamara Gómez has been 15th, Mirian Casillas 22nd, Anna Godoy 24th, Xisca Tous 36th, and Marta Sánchez 43rd.