The National League of Duathlon Clubs 2023 will arrive in Avilés in April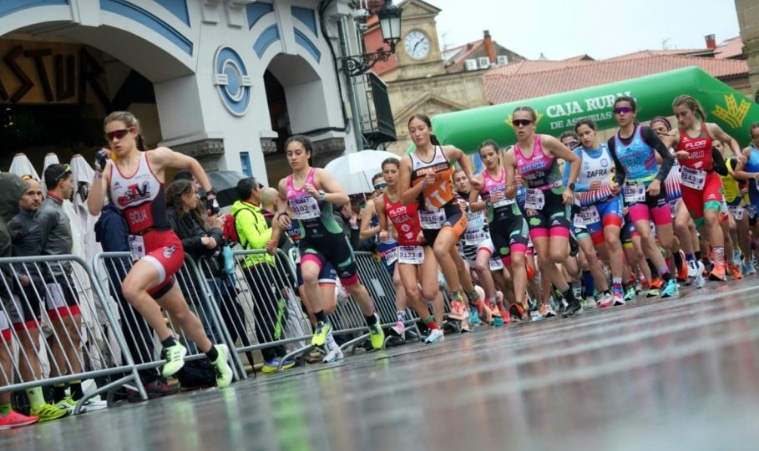 La National League of Duathlon Clubs will reach the middle of the calendar the next days April 15 and 16 with the dispute of the Spanish Championships of Duathlon Time Trial Teams and Relays.
In addition, the equivalent days of the National League of Talent Triathlon Clubs, reserved for the lower categories, which will open this competition.
The full-fledged atmosphere in the center of Avilés, the venue for the events, is guaranteed with the presence of athletes and clubs from all over Spain.
Duathlon competitions in Avilés 2023
The Domingo Álvarez Acebal square will host on Friday, April 14, the bib collection area and expo of the Duathlon Avilés 2023.
On Saturday, April 15, the Spanish Duathlon Team Time Trial Championships, with departures from 14:19 p.m. and competition until XNUMX:XNUMX p.m.
Saturday morning will be dedicated to the Time Trial Talent Teams, opening the National League, with departure at 10 am.
On Sunday, April 16, at 9 a.m. the Open tests of the Spanish Duathlon Relay Championship with the men's start, which will be followed five minutes later by the women's.
The Elite national Duathlon Relay competitions will start at 11 a.m. the masculine, and 11:02 h. the feminine.
The races that will close the event will be those corresponding to the Spanish Duathlon Championship for Talent Relay, from 12:45 a.m.
Classification National League of Duathlon Clubs 2023
The club Devils of Rivas VAS Cycling Boutique feminine, and the City of Lugo Fluvial masculine, lead the National League of Duathlon Clubs after the dispute of the first two days in Albacete.
Diablillos de Rivas is the leader in the Women's First Division ahead of KATOA Barcelona, ​​CEA Bétera, Cidade de Lugo Fluvial and Saltoki Trikideak.
For its part, Cidade de Lugo Fluvial leads the men's classification ahead of Diablillos de Rivas, Peñota Denal Alusigma, Marlins Triatlón Madrid and Stadium Casablanca Mapei, which complete the top five places.
More information on the National Duathlon League here!.