Lionel Sanders on Pablo Dapena «Wow, what a battle! One I will never forget »
In the test there was a beautiful duel between Sanders and Dapena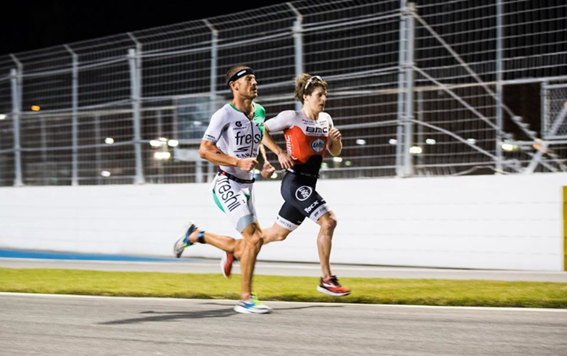 Yesterday was held in Florida (USA) andl Challenge Daytona where the canadian Lionel Sanders he took the victory and Pablo Dapena It was second.
The proof that was very even until the last lap of the race on foot, a spectacular duel could be seen between Sanders and Dapena, with many changes of pace in a spectacular circuit.
Sanders in his social networks, commented on this duel " Wow, what a battle! One I will never forget.
We will make a video after the race and upload a lot of images of the battle with @pablitopiny in the race. I just wanted to thank everyone for following the test and @challengedaytona for making an amazing event!
Pablo Dapena, on the other hand commented on social networks
«2 ° in @challengedaytona
3 ° in the @challengefamily World Bonus
Not every day one can say that endured 1 bike ride in @disupdates a @tri_starky (nice to meet you) or who fought for victory until the end with @lsanderstri; no doubt moments that I will not forget.
Congratulations @jasonwesttri for the third position.
What a great way to end a season in a place as iconic as Daytona.
Time to close the curtain. See you soon 2020.«
We leave you the video of the moment of Lionel Sanders' arrival at the finish line, as soon as we have the images of the duel between Sanders and Dapena, we will publish them
.@LSandersTri wins the Men's Pro Middle Distance! ??? #ChallengeDAYTONA | @ChallengeDIS pic.twitter.com/ksaQYP3MgH

- Daytona International Speedway (@DISupdates) December 14, 2019