Triathlon News
The 15 most decisive days of the year arrive, with two world titles in play
Spain has options to get both world titles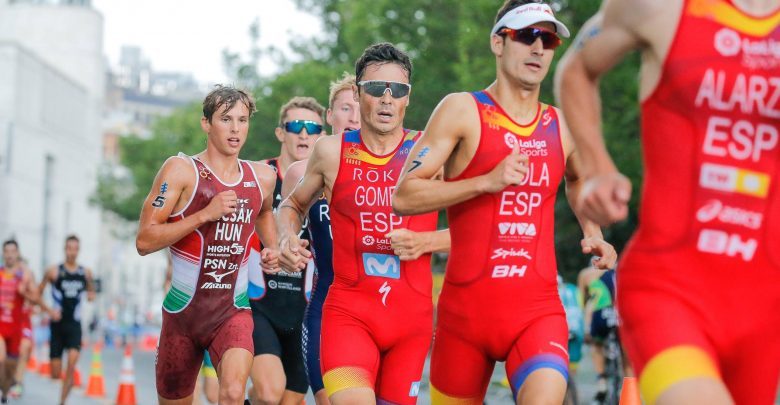 These next two weeks are going to be one of the most exciting of the season since they will take place in just 15 days Grand Final of the World Series in Laussane yel IRONMAN 70.3 World Championship in Nice
In both we will have to Javier Gómez Noya, that this year he returned to the WTS with the intention of participating next year in the Tokyo Olympics.
The Grand Final with World Cup options for Mario Mola and Javier Gómez Noya
The first appointment will be this next Saturday where we will finally meet the 2019 ITU Triathlon World Champion. The Ranking led by the French Vicent Luis y Mario Mola o Javier Gómez Noya They have options to get the title, although Luis depends on himself to proclaim himself World Champion.
The Grand Final awards 1.250 points to the winner, reason why Vicent Luis would proclaim himself World Champion whenever he finished in the top 6 as long as Mario Mola wins the last test.
In this article you can check the options that have to be world champions
Katie Zaferes the big favorite for the title
In the women's event Katie Zaferes in the big favorite where part with 755 points of advantage over Jessica Learmonth and 804 about Taylor Brown.
We will see a Noya-Browlee duel again at the IRONMAN 70.3 World Championship
As for the IRONMAN 70.3 World Championship, it will be held on September 9 and will have a very high level at the starting line.
Javier Gómez Noya starts as a favorite, but in the test will be Alistair Brownlee, Patrick Lange, Sebastian Kienle o Frederick Van Lierde. The absence of Jan Frodeno You have decided to focus on the IM Kona.
In this test we will also have Pablo Dapena y Judith Corachán. Both with a great season and they will surely fight to be in the fight for the title.
Daniela Ryf will seek her fifth world championship 70.3
The Switzerland Daniela Ryf She has four victories and could become the first athlete, counting men and women, to win the IRONMAN 70.3 World Championship five times.
Together with Mirinda Carfrae (AUS) and Leanda Cave (GBR), Ryf also has the distinction of having won the IRONMAN World Championship and the IRONMAN 70.3 World Championship.
In the following article you can check the complete listing of the participants in the IRONMAN 70.3 Nice