Triathlon News
Lola Fernández and Miguel Ángel Ganal the TRIATHLON LET'S TRI POLLENÇA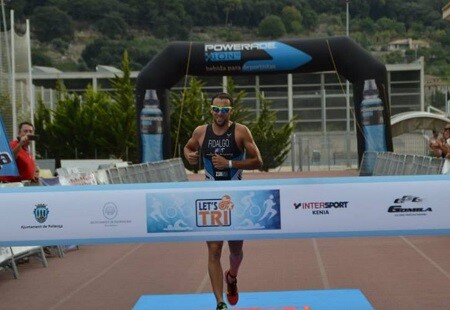 The race was held over a distance of 1900m swimming / 60km cycling / 10km running race
Near 200 triathletes took the start this Saturday of the first edition of the Triathlon LET's TRI Pollença from the pier of the beach of Llenaire, facing the 1900m of swimming to a single round in the bay of Pollença.
Due to the sick leave of Little George (main favorite), the first triathletes to get out of the water were Carlos López and Miguel Ángel Fidalgo who, after passing through the first transition zone, started the 60km of cycling that ran along some of the most beautiful roads in Mallorca, passing through the terms of : Pollença, Campanet, Selva, Caimari and Escorca Lluc to descend through the Coll de Femenia reaching the second transition area located in Pollença Polideportivo.
Once the cycling segment was abandoned, the triathletes had to face the real challenge of this test in the walk section of 10km: The Puig de María. With a 300m slope in just 2km and with a very technical stretch of cobblestones the positions varied considerably as Miguel Capó came back from more than 5m to finish second.
In females, the victory was for Lola Fernández, who managed to overtake Laura Brunot during the cycling segment to take the final victory. Brunot was second and ahead in more than 20 minutes to the first veteran and third in goal, Helena Bellini.
The organization appreciates the great work done by members of the Pollença Local Police and the Civil Guard in this test, as well as the collaboration of the City of Pollença, all volunteers and local partners.
Absolute winners of Let's Tri Pollença:
Male:
1º Miguel Ángel Fidalgo. Mallorca Training M3T
2º Miquel Capó
3º Carlos López. CE Cycles Gomila
Female
1º Lola Fernández
2º Laura Brunot
3º Helena Bellini. Meam yes Torn
Absolute winners of the Challenge Let's Tri
Male:
1º Juan Nadal, Llucmajor NPP
2º Miguel Ángel Fidalgo. Mallorca Training M3T
3º Miguel Fernandez Miniño. Mallorca Training M3T
Female:
1º Laura Brunot
2º Mavi Garcia. CE Cycles Gomila
3º Lola Fernandez
More Information www.letstri.es