London, a must for the best triathletes in the world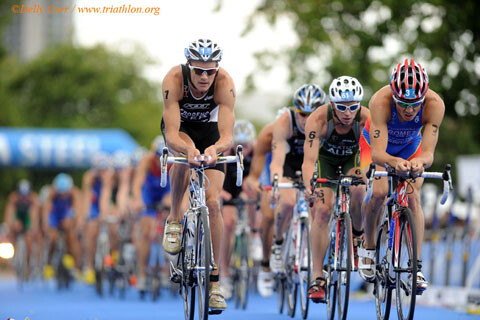 London will host this weekend the fifth round of the Triathlon World Series, one of the most anticipated events in triathlon internationally, which becomes an unmissable event for the best triathletes in the world in what is beginning to be the countdown to reach the grand final in Beijing on September 10 and 11
Two reasons are what make London an unavoidable event for the international triathlon calendar: the first one is that it can be decisive to know who will be the world champions this year, both in the male and female category, the scores of the rankings are very tight, which makes London a key event, the other reason is that it will be the first and last time that triathletes will run on the circuit of the 2012 Olympic Games.
Triathletes will fight to get into the top three positions as this automatically ensures the Olympic places for their countries. On a fast track, which promises to be exciting with everything at stake, it is not surprising that London summons the best triathletes in the world.
The circuit will begin with 1500 meters of swimming in "The Serpentine", Hyde Park, once finished the triathletes will take their bikes to start the cycling segment that will consist of 40 km and will take place in the vicinity of "Constitution Hill" and "Buckingham Palace ", To finish again in Hyde Park where the last segment will begin, which will consist of 10 km of running.
In the Elite Female category we will have the presence of Ainhoa ​​Murúa, Zuriñe Rodríguez and Marina Damlaimcourt. Among the leaders of the event are Canadian Paula Findlay, Sharah Haskins, Nicola Spriring, Emma Moffatt, Emma Snowsill, Andrea Hewitt and the current leader of the World Series, Barbara Riveros, among others.
The Chilean Bárbara Riveros, will have to fight to be able to maintain this first position in the world ranking when facing Paula Findlay again, who caused a loss in the last series held in Hamburg, so she could not score points and lost her first position in the world ranking.
Among the Spanish women, it is worth highlighting the performance of Ainhoa ​​Murúa, who in a constant struggle has managed to advance positions until she managed to enter, after the Hamburg event, among the top ten in the world ranking.
In the Male Elite category, Spain will be represented by Javier Gómez Noya, current leader of the world ranking, Iván Raña and the young Mario Mola.
Exciting this race is presented, between the Brownlee brothers who run "in their land", Will Clarke, Brad Kahlefeldt, David Hauss, Jan Frodeno and of course Javier Gómez Noya, among others.
Javier Gómez Noya was proclaimed champion in Sydney, third in Madrid and sixth in Hamburg. Last weekend we could enjoy seeing him enter the finish line in first position in the Premium Triathlon European Cup held in Banyoles, in which he competed, among other Spaniards, with the young Mario Mola, who entered the top 10 of the test . Veteran Iván Raña, an Olympic triathlete and triathlon world champion in 2002, will also fight to be in the top 10.
The female elite category triathletes will meet on Saturday, August 6 at 08:30 and Sunday 7 will be when the male elite test is held at 13:00 p.m. local time
To view the test live: www.triathlonlive.tv or via Twitter at twitter.com/triathlonlive