Triathlon News
The best 60 cyclists of MOVISTAR VIRTUAL CYCLING of Bkool will fight for the final victory in FESTIBIKE
The first virtual cycling World Cup has had nearly 45.000 participants in total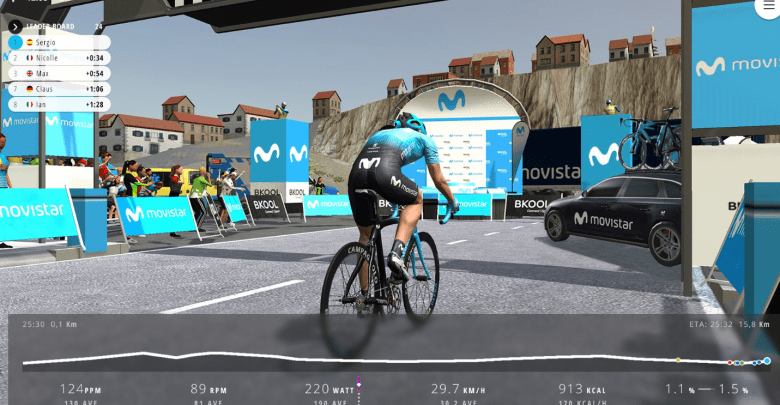 The last of the endurance tests will take place on Friday, September 13 at the Las Rozas Fairgrounds, which will give access to the final stages on Saturday and Sunday
The international virtual cycling competition that is carried out with bicycle and roller using the technology of Bkool, MOVE VIRTUAL CYCLING, reaches its climax this weekend -of September 13 to 15- in FESTIBIKE, the International Bicycle Fair.
The last stage the mythical classic cyclist Liège - Bastogne - Liège from Belgium
After its journey through the cities of Madrid and Pamplona, ​​this international competition will hold on Friday September 13 the last endurance test in which 60 participants will play their place to access the semifinals on Saturday.
Before them, the layout of the mythical classic cyclist Liège - Bastogne - Liège from Belgium. In this virtual context they will have to demonstrate that they are capable of overcoming the hardness of the 13,7 km where they will find ramps of up to 10% of unevenness that they are not going to make the stage easy for cyclists.
During the test participants will experience the sensations that are recreated in this competition so realistic; from the meteorology, the landscape or the orography as the unevenness, the distance or the same power of each cyclist.
On Saturday the semifinals and on Sunday the final
On Saturday September 14 the semifinals will be held, while on Sunday the 15th it will be the grand final in which the names of the winners of the first edition of MOVISTAR VIRTUAL CYCLING will be known.
This competition has been formed by 21 qualifying tests: 11 in person –sprint and endurance- and 10 online, where there has also been an international presence.
Proof of this is that during the weekend there will be representation from Denmark and Germany in the semifinals, in the fight to get a place on the podium of MOVISTAR VIRTUAL CYCLING in FESTIBIKE.
MOVISTAR VIRTUAL CYCLING is the first virtual cycling World Championship and in its inaugural edition it has had 44.273 participants in total. An absolute success of participation for a pioneering and unique test worldwide.
COMPETITION SCHEDULES:
Friday, September 13: Last Endurance test (from 18.00:20.00 p.m. to XNUMX:XNUMX p.m.)
Saturday, September 14: Semifinals (from 12.00:20.00 to XNUMX:XNUMX)
Sunday 15 September: Final (from 10.00 to 14.30 hours
More information, www.movistarvirtualcycling.com