The Austrians Thomas Steger and Lisa-Maria Dornauer lead the Long Course Weekend Mallorca 2019 after the swim day
Today the "Swim Day" has been disputed, swimming in open water.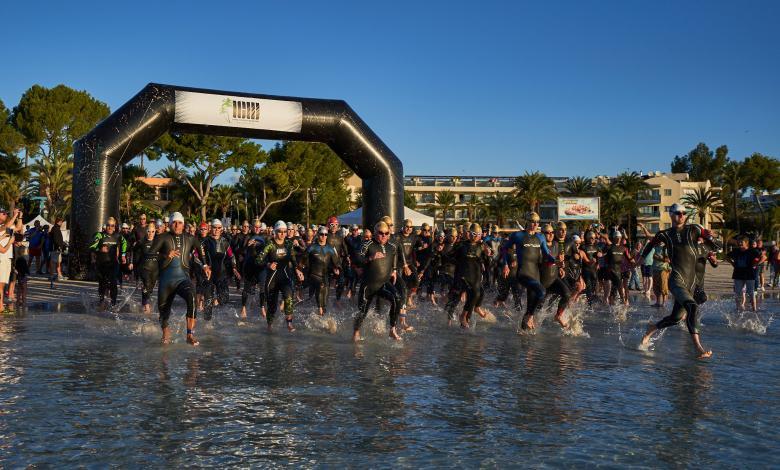 Alcudia today held the open water swimming competition on the first day of the three that make up Long Course Weekend Mallorca 2019 with the "Swim Day", Swimming in open water.
The Austrian couple formed by triathletes Thomas Steger y Lisa-Maria Dornauer lead the long distance queen test (3.800 meters of swimming today, 172 km of cycling tomorrow Sunday and 42,2 km of running race on Monday) after departure today at Alcúdia beach.
Steger, has been the fastest swimmer on the 3.800 meters, followed by the Spanish Omar Tayara, who does not compete in the general of the LCW, and the German Fabian Knobelspies, third in swimming and second in the general of the three days.
The winner of the first two editions, Briton Tom Vickery, crossed the finish line at number 12, about five minutes from Steger.
The first woman in goal, achieving an impressive fifth place, has been the Balearic swimmer Teresa Planas de la Cruz, although she does not dispute the final classification of the Long Course Weekend over the complete distance. Austrian Lisa-Maria Dornauer leads the LCW after being the fourth woman in goal.
In parallel, races of 1.900, 1.500 and 750 meters have also been held throughout the morning. Between the three days of competition there are registered 1.500 of more than 20 nationalities. This afternoon the Kids Beach Run for children is celebrated from 16h.
The Long Course Weekend Mallorca 2019 has started today and ends this Monday.
There are many distances and options in which to participate each day, and a special recognition in the form of a fourth medal for those athletes capable of taking part daily in the long distance segment that gives name to the competition: 3.800 m of swimming, 172 km of Cycling and 42.195 m running.
Tomorrow is celebrated the "Bike Day" that starts at 8h30 with a cycling race of 86 or 172km, with roads closed to traffic and with the option of being able to go in platoon.
To end the weekend, Monday is the "Run Day" from 8h45, in which athletes can choose between running 5, 10, 21 or 42 km.
Only the finishers of the three days in the greatest distances may qualify for the fourth medal that grants them the status of "Legends" or "finishers" of the Long Course Weekend Mallorca 2019.
Long Course Weekend is organized by Kumulus, with the invaluable cooperation of the Ajuntament d'Alcúdia. More information in www.lcwmallorca.com.
Classification full distance Long Course Weekend
sportmaniacs.com/es/races/long-course-weekend-mallorca-2019
Women:
Lisa-Maria Dornauer 57:08

Chloé Serra Jodin 57:16

Kylie Mansfield 59:51
Men
Thomas Steger 50:35

Fabian Knobelspies 51:00

Gary Jervis

52:30