Triathlon News
The Spaniards will try to rise to the top this weekend in Águilas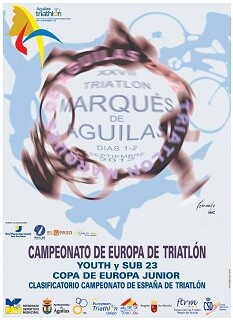 The promises of this sport in Europe will meet in Águilas to participate in the XXVII Triathlon «Marques de Águilas», valid for the European Youth Championship and Sub 23, the European Cup of Junior Triathlon and which will also be Qualifying for the Championship from Spain.
A Triathlon whose inauguration ceremony will take place this Friday 31 of August at the 20: 00 hours on the Esplanade of the Auditorium "Infanta Doña Elena" of Águilas and that will be attended by the Mayor of Águilas, Bartolomé Hernández Giménez, the President of the European Union of Triathlon, Renato Bertrandi, the Presidents of the National and Murcian Federations, José Hidalgo and Diego Calvo respectively, and the General Director of Physical Activity and Sports, Antonio Peñalver.
In Sub 23 the Spanish representation will be formed by the Mallorcan Mario Mola (fourth in the ITU Triathlon World Series of San Diego and sixth in the European Triathlon Championship of Eilat 2012); the triathlete of Talavera de la Reina, Fernando Alarza (fourth in the Stockholm ITU Triathlon World Series 2012); the Uxío Abuín Galician (third in the Holten 2012 Triathlon Premium European Cup); the Santa Cruz Vicente Hernández (recent bronze medal in the Triathlon European Cup of Karlovy Vary 2012) and Ricardo Hernández (sixth in the Africa Sprint 2011 Triathlon Cup).
In females we will have the Carolina Routier banyolina (winner in the African Sprint 2012 Triathlon Cup held in Larache), the María Ortega (17 ° at the Banyoles Triathlon World Cup), the Barcelona Anna Godoy (13ª at the Africa Cup of Sprint Triathlon 2012) and the pacense Miriam Casillas (22ª in the World Cup of Triathlon of Banyoles).
Along with the Spanish triathletes highlight the Russians Igor Polyanskiy and Andrey Brukhankov, the Portuguese Luso Joao Silva, the Italian Davide Uccellari or the Slovak Richard Varga among others.
On the other hand, in the Sub 23 female category, the presence of the Russian Alexandra Razarenova, Elena Danilova and Mariya Shorets or the Dutch Maaike Caelers stands out.
Source: .murcia.com