The French win the Triathlon World Cup in Tiszaujvaros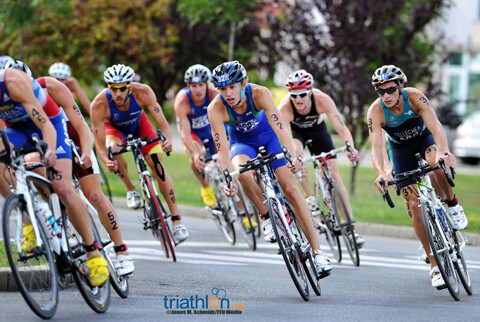 The second day of the World Cup of Tiszaujvaros has counted in male elite category with the prominence of the French. The Gauls have dominated the race from start to finish, until they conquered the three steps of the podium.
The first to come out of the water after completing the 750m swim was Aurélien Raphael, closely followed by his compatriots Anthony Pujades and Pierre Le Corre; the Russians Igor Polyanskiy and Andrey Bryukhankov and the Australian Dan Wilson. The first Spaniard to perform the segment was Vicente Hernández more than 20 seconds away, while Jesús Gomar finished more than half a minute from the first.
At the start of T1 a group of ten took the lead, progressively increasing their gap with the pursuing squad during this section. To such an extent that at the end of the 20 km of cycling they already had more than a minute of advantage over the rest.
Already immersed in the last sector, the Gauls have been breaking away from their greatest rivals in the first of the three laps of the route. Subsequently, Le Corre has prevailed over his compatriots in a brilliant foot race, winning gold. From behind, and a few seconds, Raphael entered; thus achieving the silver medal. While Pujades has obtained the third medal at stake.
The Spanish have struggled throughout the competition, trying to reduce the distances to reach the leading group. However, the income obtained by these in the cycling circuit has been insurmountable. Even so, Jesús Gomar finished in 15th position, achieving the fifth best mark in the running segment and Vicente Hernández finished in 21st place.
In the elite women's category and after a disputed duel with Maaike Caelers, the victory went to the Australian Ashleigh Gentle. For her part, the Dutch Caelers has reached second place, while the Italian Annamaria Mazzetti has been awarded the bronze medal.
The next round of the ITU Triathlon World Cup will take place on September 9 in Guatape (Colombia).
Elite male classification:
1 Pierre Le Corre FRA 00: 51: 54
2. Aurélien Raphael FRA 00:52:05
3 Anthony Pujades FRA 00: 52: 10
4 Ryan Fisher AUS 00: 52: 17 00: 08: 44
5 Igor Polyanskiy RUS 00: 52: 19
-
15. Jesus Gomar ESP 00:52:57
21 Vicente Hernández ESP 00: 53: 19
More results at: http://www.triathlon.org/results/results/2012_tiszaujvaros_itu_triathlon_world_cup/7201/
Female elite classification:
1 Ashleigh Gentle AUS 00: 58: 39
2 Maaike Caelers HOL 00: 58: 43
3 Annamaria Mazzetti ITA 00: 59: 19
4 Charlotte McShane AUS 00: 59: 24
5 Anja Knapp ALE 00: 59: 31
More results at: http://www.triathlon.org/results/results/2012_tiszaujvaros_itu_triathlon_world_cup/7199/
FETRI