Triathlon News
The Mixed Relays of Nottingham, the appointment of the triarmada this weekend
On this occasion the TriArmada will be integrated by María Rico, Iría Rodriguez, Alberto Gonzalez and Genis Grau,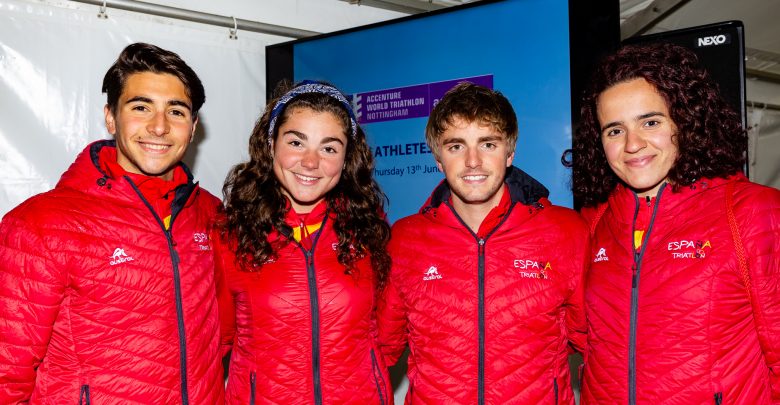 Nottingham, a city near Leeds where the individual event of the World Series was held last weekend, will host the 2 test of the Mixed Relay World Series in a venue that has already held a career in 2018 and that will have the participation of the Spanish Triathlon Federation.
On this occasion the TriArmada will integrate María Rico, Iria Rodriguez, Alberto Gonzalez y Genis Grau, a young squad that will seek the best possible result and gain experience in a test that is still in the process of evolution after being recently included in the Olympic calendar for Tokyo 2020.
Among the four members of the relay we find the current Spanish Triathlon Champion sprint distance, Alberto González, and the Spanish Sprint Sub23 Triathlon Champion, María Rico, both crowned last weekend in Roquetas de Mar. And will be accompanied by Genis Grau, who this season has made great international performances, and by a young Iria Rodriguez who last year already played the European Championship and Championship of the World in junior category.
There will also be Spaniards in the Nur-Sultan World Cup,
In Astana (Kazakhstan), the Nur-Sultan World Cup will be held, where the Spanish representation is formed by Xisca Tous, Spanish Triathlon Champion (Olympic distance) 2018, and Spanish Triathlon Sprinter Sub Champion last weekend in Roquetas de Mar, next to Marta Sánchez, bronze in the past Spanish Sprint Championship and that was one of the great protagonists with his great break in the cycling sector. In the male outing, the young Javier Romo y Romaric Forques will be the Spaniards who will take the start in a race in which the American Matthew McElroy will be present as the main favorite, after his silver in the World Series of Leeds.
To close the Spanish international participation of this weekend, we will move to Besançon (France), where a Paratriathlon World Cup is held. José Joaquín Martínez Rincón (PTS2) and Juan Jesús Aguiar (PTS4) will be the representatives of the ParaTriarmada.
Source: FETRI