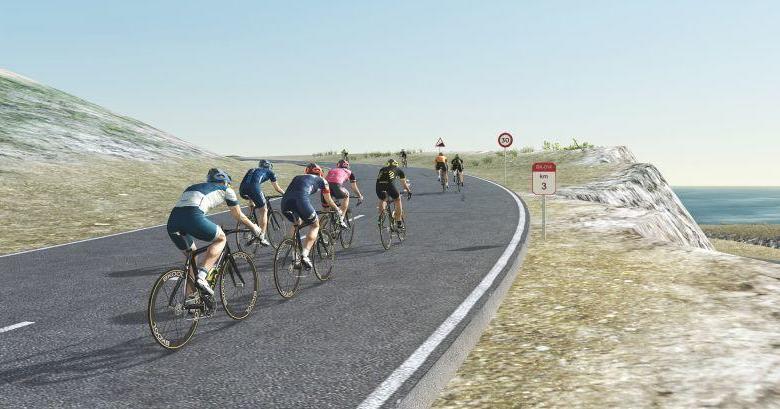 The LVP, Professional Videogame League Colombia (Grupo MEDIAPRO), in association with Bkool, announced the launch of the LVP Cycling by Bkool which will begin on September 10.
A moment to pedal, compete and live the cycling experience in video of several Colombian cycling routes, as well as some of the most famous races on the planet in 3D.
For those who still do not know Bkool they have the 30-day trial option, be able to compete and start getting fit.
To carry out this virtual competition, LVP has partnered with Bkool, creator of an advanced virtual indoor cycling platform, which allows cyclists compete from anywhere in the world with real routes simulated in 3D or video.
LVP Cycling by Bkool will have its registration period from September 4 to 10, aligning the online qualifiers with the most iconic events of the cycling season through this link.
The participants of the virtual championship must meet their rivals in five 100% real stages, that will faithfully simulate some of the most popular routes in the world, and that will be unlocked throughout the month.
Then the five stages that will make up the competition, in which participants can run whenever they want, having a deadline to appear in the ranking of the LVP Cycling by Bkool landing page.
Etapa 1 until September 14: Tirreno Adriatico (coinciding with the royal edition of the famous Italian race).
Etapa 2 (COL) until September 18: San Pedro de los Milagros (with video and 3D view).
Etapa 3 until September 22: Milan - Sanremo (one of the most important classics in the world).
Etapa 4 (COL) until September 26: Palmira Trendenueva (in video and 3D).
Etapa 5: Flecha Valona until October 1 (which will also coincide with the real edition of the Classical).
Through the alliance, Bkool joins to accompany the development of electronic sports with LVP.
This phenomenon, in which videogames reach the level of sports competitions, already generates more than 1 billion profits worldwide through teams, leagues and fans that already consolidate the so-called "sport of the XNUMXst century."
Bkool software, one of the most advanced today, allows you to realistically recreate the conditions of any cycling route or competition, including distance, unevenness during the route, power developed by each cyclist, landscapes, orography or even the weather in real time.
Today, Bkool has thousands of active users spread over more than 40 different countries.
For more information about the competition and Bkool's support as an official ally, those interested can follow Liga de Videojuegos Profesional Colombia on their social networks: @LVPcol on Facebook, Twitter, Instagram, YouTube and Twitch, and Bkool on theirs: @ bkoolcycling (FB), @BkoolSport (TW) and @Bkool_official (IG).
To participate, they just have to register at Bkool.com where they can opt for a free 30-day trial of the platform with which they can complete the competition without having to pay anything.
It will be open to all Colombians in the country and the winner will get an annual Bkool membership.
Further information: www.bkool.com/es/community/race/lvp
Price drop on Amazon
73,93 €
3 New From 247,89 €
98 Used From 73,93 €

Amazon.com
459,98 €
2 New From 459,98 €
6 Used From 409,65 €

Amazon.com
More discounts