Tomorrow the party begins at the TRITON Portimão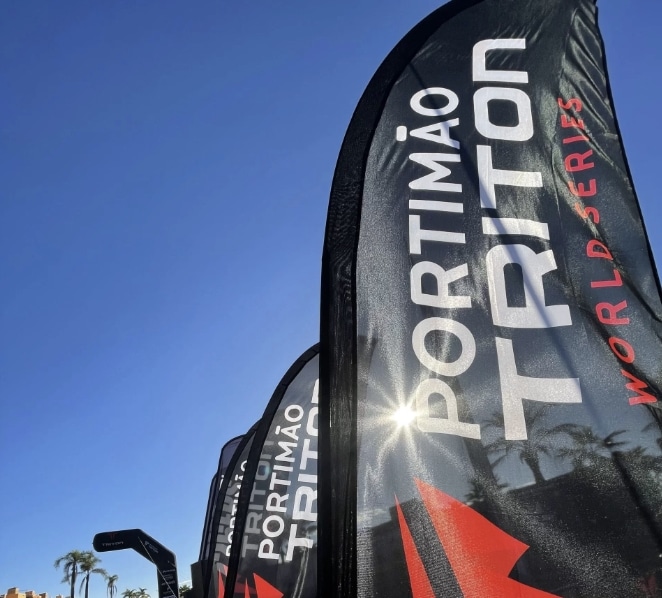 El TRITON Portimão 2023 is about to start engines.
This unique event will take place from October 27 to 29 in the stunning Portuguese Algarve and promises to be an unforgettable experience for athletes and spectators alike.
More than a Triathlon, a Philosophy of Life
TRITON3 is not just another event on the triathlon calendar; It is an experience that goes beyond sport.
It embodies a philosophy of life that seeks not only to strengthen the body, but also the mind.
This holistic approach is reflected in how the event is structured, which spans three days, each dedicated to a specific triathlon discipline: swimming, cycling and running.
One Day, One Discipline
Day 1: Swimming




The first day is dedicated to swimming, allowing athletes to immerse themselves in the crystal clear waters of the Algarve.

Day 2: Cycling




The second day focuses on cycling, a discipline that combines strength, endurance and technical skill. Participants can choose between several distances

Day 3: Race




The third and last day is for the foot race. With distances ranging from 7km to 21km, there is an option for every level of runner.
Dates and distances
The TRITON Portimão 2023 has been designed to be a multidisciplinary event spanning three days of intense activity.
Each day focuses on a specific triathlon discipline, allowing athletes to choose which events they wish to participate in. Here we detail the programming:
| | | |
| --- | --- | --- |
| Date | Discipline | Available distances |
| October 27 | Swimming | 1.2km, 2.4km, 3.6km |
| October 28 | Cycling | 30km, 60km, 90km |
| October 29 | Career | 7km, 14km, 21km |
Portimão is a gem in the heart of the Portuguese Algarve. With paradisiacal beaches and a rich history, it is the perfect place for a weekend of sport and discovery.
How to get there from Spain
For Spanish triathletes, getting to Portimão is quite simple. From Madrid, the distance is approximately 600 km, and from cities such as Seville or Huelva, the distance is approximately 300 km.
More information in https://portugal.tritonworldseries.com/portimao/