Marcel Zamora presents his book in Madrid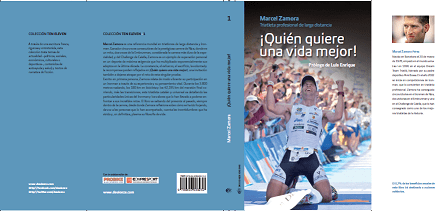 Marcel Zamora presents his book ¡Quién quiere una vida mejor! at Triathlon Store in Madrid with Dani Márquez, editor in chief of Finisher magazine, as master of ceremonies.
Marcel Zamora is a world reference in long distance triathlons. He has already written his name among the greats: winner five consecutive times of the prestigious IM of Nice, two times champion in Embrunman, considered the toughest race of the specialty and also champion in the Challenge of Calella, Zamora is an example of self-improvement.
The perseverance, the effort, the sacrifice, the will and the reward are reflected in Who Wants a Better Life !, with a prologue by Luis Enrique and an invitation, too, to be caught by the challenge of this unique test. Written in first person, the book jumps from present to past, always within the race, from where Zamora reflects on how it has been forged. Likewise, he gives voice to the people who have accompanied him, he tells the uncertainties he has lived and, ultimately, expresses his philosophy of life.
Daniel Márquez, editor-in-chief of Finisher magazine, will make the presentation together with Zamora in Triathlon Store next Thursday 19 of July at 19.00h
Call for submission:
Thursday 19 of July from 2012 to 19.00h
Triathlon Store
C / Calle del Doctor Esquerdo, 209
28007 Madrid
Tel +914 33 77 88
http://www.triatlonstore.es
Free admission for the public and the press