Marina Damlaimcourt wins bronze at the Triathlon World Cup in Huatulco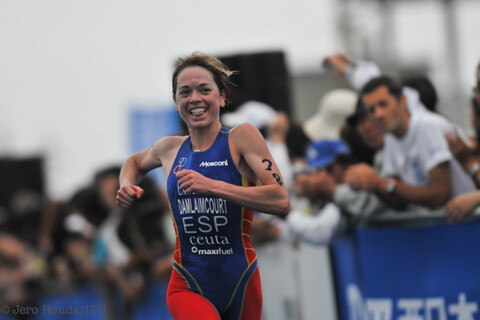 Podium for Spain in the Huatulco Triathlon World Cup. Marina Damlaimcourt, achieved third place on the podium with a total time of 02:13:52. The Japanese Ide Juri won the test, 02:12:52 followed by the Italian Annamaria Mazzetti, 02:13:39
Today the Triathlon World Cup, belonging to the second scoring for the London 2012 Olympic Games, was held in the town of Huatulco (Mexico). In this event, Spain was represented by Marina Damlaimcourt, 3rd, Ainhoa ​​Murua, 11, Zuriñe Rodríguez, 14 and Carolina Routier, 31.
The Spanish Marina Damlaimcourt, managed to take third place on the podium "I am very happy with the result, in the last tests I was not quite well and I did not have the performance I expected, but this I felt strong and finally I achieved a good position, despite this, I did not expect it. I am very happy with the result"
"In the swimming segment, I came out of the first, which gave me the possibility of placing myself in the leading group in the cycling segment. There was a fall, among the girls, there was Ainhoa ​​Murua, who despite getting up and continuing, lost the first group. I was in the leading group, which shot very hard knowing that there were good runners in the chasing group for the running segment, so the strategy was to try to achieve the maximum possible difference with this second group. I was able to stay in my head without problems, since the bike is good for me, when I got off I made a quick transition. The second group came in after a minute and a half, and couldn't catch up. From the transition I came out in third position and at one point I managed to pass the Italian, who finished second, but I couldn't keep up and I got off the hook, fighting for the last place on the podium, and that's how it was "
"I am very grateful for the welcome that the Spanish team has had in Mexico, the people are very kind to us, the facilities are good for training, as well as the environment and food, which is also important when competing. I am happy that Huatulco is the place that I take to remember my first podium in a World Cup "
More information and results at: http://www.triathlon.org/results/results/2011_huatulco_itu_triathlon_world_cup/6000/