Mario Mola Triathlon World Champion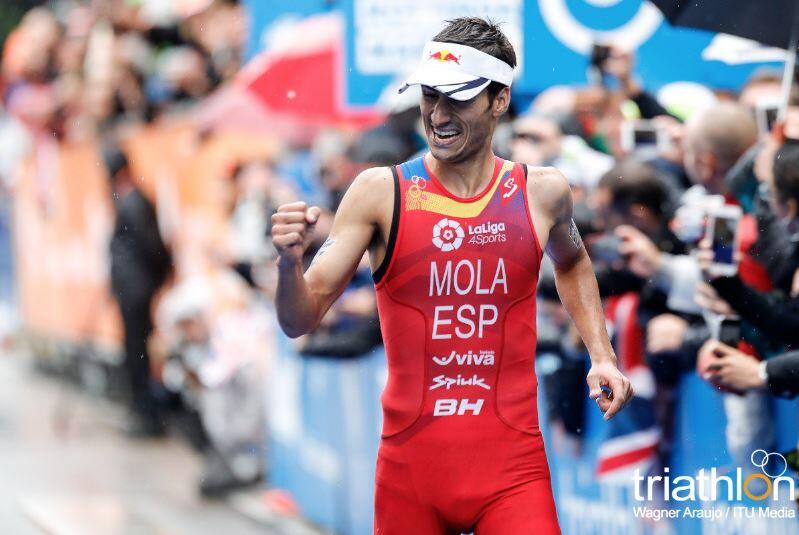 {wbamp-meta name="image" url="/images/stories/noticias_07/mario-mola-champion-world-triathlon-2017.JPG" width="300″ height="150″}
Mario Mola has achieved his second consecutive world cup and Javier Gómez Noya closes a spectacular season with the second place
Today it was held in the Dutch city of Rotterdam la Grand Final of the World Series where we had 3 triathletes with options to get the World Championship, Mario Mola, Javier Gómez Noya and Fernando Alarza.
Mario Mola was enough to finish among the first 5 to revalidate the title obtained last year.
On a rainy morning, the test started a little late with the 1,5 km of two-lap swim, where the first to get out of the water was Richard Varga followed by Gómez Noya 5 seconds away, Fernando Alarza 15 seconds, Mario Mola 17, Uxío Abuín 26 and Vicente Hernández 28 from the head of the race. Iván Raña came out 51 seconds from the head.
In a rapid transition, a group of 15 was formed in the lead with Javier Gómez Noya, Jonathan Brownlee, while 20 seconds away were the rest of the Spaniards pulling to reach the group at the top. Iván Raña started late and was 1 minute behind the leaders in the first round. In the passage through the second round, the work carried out in the second group paid off and it caught up with the leader forming a large squad.
In a cycling circuit marked by many turns and by the rain that fell on the Dutch city, he went through the third lap already with a group of 25 with Noya, Mola, Alarza, Hernández, Brownlee, Murray, Royle and Blummenflet with an advantage 1:15 on the persecuting group where Uxío Abuín and Iván Raña were.
Video circuit cyclist
Dangerous cycle circuit, many curves and wet floor with cobblestone .. #RotterdamGF pic.twitter.com/qNCZV1rYMd

- Triathlon News (@triatlonnoticia) 16th September 2017

Step by the fourth round, the difference on the group of Uxio 1: 30 where Ivan Raña withdrew from the test

The bad conditions of the circuit meant that attacks will not be made and the whole group will be together, increasing the excitement of the race until the end, since everything was going to be decided in the 10 km of the race on foot.

As soon as they started, Jonathan Brownlee and Kristian Blummenflet left in the lead, followed behind by Javier Gómez Noya and Vicent Luis, who ended up overtaking them, Mario Mola passing 3 seconds behind the leading group in the first lap.

In the middle of the route, the group of 4 with Noya, Mola, Brownlee, Blummenflet and Vicent Luis, surpassed Richard Murray by 8 seconds, while Fernando Alarza who had to be ahead of the South African and the Norwegian to get the ranking bronze passed to 16 seconds

On the last lap, Jonathan Brownlee dropped from the lead group while Kristian Blummenflet made an attack, where Mario Mola and Javier Gómez noya stayed a few meters behind, while Vicent Luis He left to get the final victory in a time of 1: 51: 25 followed by Kristian Blummenflet in a tight sprint at 2 seconds and for Mario Mola (1: 51: 35) in third position.Javier Gómez Noya with flato finished in fourth position. Fernando Alarza y Vicente Hernández entered the 11 and 12 position respectively. Uxío Abuín finalized in the 30ª final position

Classification

| | |
| --- | --- |
| Pos | Athlete |
| 1 # 12 | Vincent Luis |
| 2 # 5 | Kristian Blummenfelt |
| 3 # 1 | Mario Mola |
| 4 # 2 | Javier Gomez Noya |
| 5 # 6 | Jonathan Brownlee |
| 6 # 3 | Richard Murray |
| 7 # 9 | Pierre Le Corre |
| 8 # 28 | Joao Pereira |
| 9 # 14 | Andreas Schilling |
| 10 # 8 | Thomas Bishop |

Statements by Mario Mola

We got the statements from @mariomola Bicampeón of the Triathlon World ?????? https://t.co/9O9I6Hjm5c pic.twitter.com/V5xiFC3xpK

- Triathlon News (@triatlonnoticia) 16th September 2017

Final Ranking of the Ranking

With this third place in the Grand Final Mario Mola has achieved its second consecutive world championship, followed by Javier Gómez Noya who gets the runner-up and by the Norwegian Kristian Blummenfelt occupying the third final position of the Ranking. Fernando Alarza has finished in a great fifth final position.

SANTINI born with the aim of offering unique garments to athletes passionate about cycling and triathlon. Enjoy a unique experience in comfort while wearing clothes with exclusive style and the maximum technology that guarantee greater performance. Unique garments designed by and for the Triathlete

Photo Mola ITU / Wagner Araujo