Triathlon News
Mario Mola, Javier Gómez Noya and Iván Raña will be in the ProTour
Next weekend, Pontevedrá will host the first edition of the Protour with the best athletes in our country.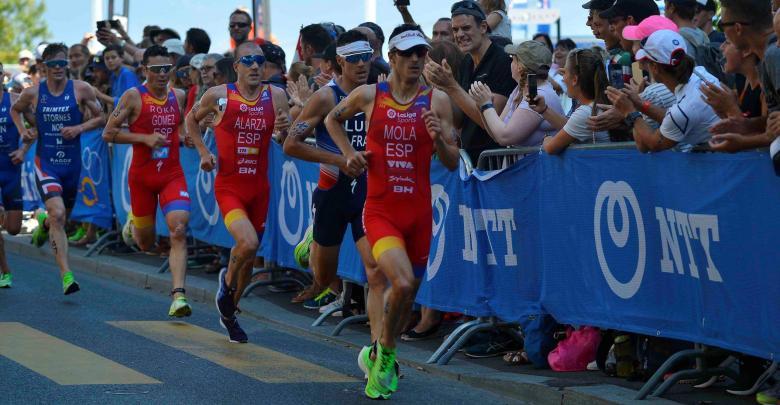 On October 12 and 13, in the emblematic Pontevedra headquarters, the Spanish triathlon will live a historic moment with the presence, on the same starting line of the ProTour FETRI 2019, of the three Spanish World Champions.
Javier Gómez Noya, with five titles; Mario Mola, with three; and Igo RañaThe first will be measured in a spectacular format of qualifying competitions to the rest of the national triathlon elite.
Ainhoa ​​Murúa, with four Olympic Games played, he will also be in a test with Anna Godoy, Sara Pérez Sala, Carol Routier, Anneke Jenkins, Tamara Gómez and the most important names on the national scene.
The test can be followed by streaming
The test will be broadcast in streaming on the LaLigaSportTV channel, which will signal the TVG, and also the channel of the International Triathlon Federation, which currently has 50.000 subscribers.
The Spanish Time Trial Championship will also be played
The competition will be accompanied, on Saturday morning, by the celebration of the Spanish Time Trial Championship, and in the afternoon, the ProTour qualifying shifts will begin, which will have to overcome the swimming sections in Lérez, bicycle and foot race in the area of ​​the avenue of Buenos Aires and the river.
The last five athletes of each segment in the double SuperSprint will be eliminated.
The semifinals and finals of the competition will be played on the morning of Sunday 13 of October.
ProTour 2019 definitive listing
| | |
| --- | --- |
| Women | Men |
| Anna Godoy | Mario Mola |
| Sara Pérez Sala | Fernando Alarza |
| Carol Routier | Javier Gómez Noya |
| Ainhoa ​​Murúa | Antonio Serrat |
| Anneke Jenkins | Ivan Raña |
| Tamara Gómez | Javi Lluch |
| Camila Alonso | Alberto González |
| Marta Pintanel | Genís Grau |
| María Rico | Jordi García |
| Noelia Juan | Cesc Godoy |
| Sara Guerrero | David Castro |
| Joselyn Brea | Andrés Cendán |
| Claudia Pérez | Iván Gil |
| Ana Mariblanca | Guillem Montiel |
| Paula Herrero | Alberto Castiñeira |
| Irenal Arenal | Javier Romo |
| Raquel Arostegui | Carlos Oliver |
| Iria Rodríguez | Ander Noaín |
| Paula García Godino | Héctor Arévalo |
| Sofia Aguayo | Albert Parreño |
| Sonia Ruiz | Adriá Muñoz |
| Delioma González | Camilo Puertas |
| Ana Maria Santiso | Jesús Gomar |
| Esther Gómez | Roger Mirabet |
| Edymar Brea | English |
| Yaiza Saiz | Roberto Sánchez Mantecón |
| Raquel Pérez | Jordi Relats |
| Lucia Vergara | Andrés Eduardo Díaz |
| Marina Muñoz | Aleix Domenech |
| Use Ostolaza | Rubén Pereira |
| Andrea Fernández | David Huertas |
| Alba Álvarez | Enric Joan Tejedor |
| Tania Álvarez | David Doors |
| Anna Flaquer | Guillermo Cuchillo |
| | Guillem Segura |
| | Álvaro Martínez |
| | Mikel Ibergallartu |