Triathlon News
Mario Mola «I reached a level of muscular overload that in the end prevented me from performing at my maximum level»
Mola arrives as seventh of the world championship in Hamburg after second place in Montreal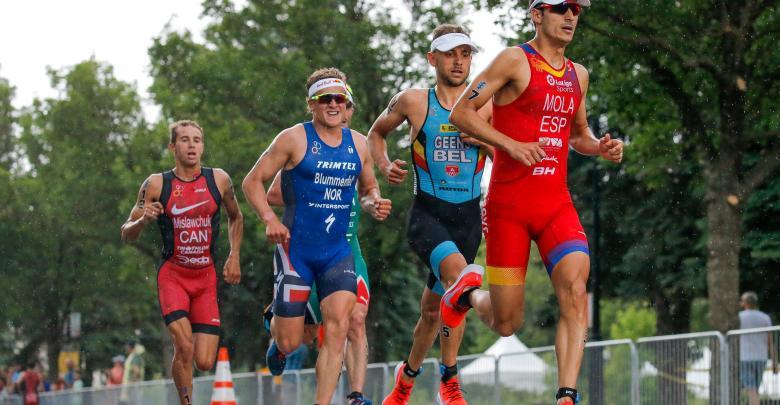 In a newspaper interview sports world, Mola comments on how he faces the Hamburg world series, after the second place in Montreal.
The performance harvested in Canada, has been the return to the level he had at the beginning of the season where he won the WTS in Abu Dhabi.
According to his comments, his bad performances have been mainly due to an overload of muscle, which has been noticed especially in the three Olympic distance races he has played, Bermudas, Yokohamay Leeds.
Mola, arrive seventh of the World that can be put back very favorable to the German town of Hamburg, which this Saturday hosts the sixth round of the championship, in sprint distance, in a scenario in which he has won the last three seasons.
You can check the following link Preview of the WTS Hamburg 2019
I am happy, above all, for having returned to compete at a good level. It is also true that the trainings of the last weeks have recovered a little normality again.
So I'm enjoying the competition again and hopefully I can have a good race here.
What do you expect from a race that takes place in a place where, coincidentally, the winner of the last three years is called Mario Mola?
(laughs) Well, the objective is always the same, it's clear: fight to be as possible as possible. But the rest of the rivals also have that goal, so it will not be easy.
Anyway, for my part, I'm going to leave with that mentality and, for better or for worse, the race is already putting you on your site.
Is the fourth victory possible in Hamburg possible? Will he leave this Saturday with a 'poker' of wins here?
We will try, we will try (laughs). I competed well in Montreal and I hope to do well here. Obviously I would have liked to have been able to train more in recent months, but the reality is the reality
This season is important, but the next one will be even more, right? There are the Tokyo Games.
I think that if a season had to have a bad career and some moment of reflection was certainly this, because of the proximity we have already with the 2020 Games.
And, of course, I would like to be in the World Cup later and have more options to compete in the championship, but it is true that perhaps everything I have learned during these last months is more valuable than good races can take you to get.
So now the main thing is to be competing at the best possible level in the next races; and hopefully arrive in the best possible conditions to those Tokyo Games.
The truth is that he has accustomed us badly, with so many victories; But what happened, exactly, in those races in Bermuda, Yokohama and Leeds?
The truth is that during the last five or six years I was able to compete at 99 percent for nine or ten months during all those years without having had any setbacks.
It was not normal and this is sport; and the one who more or less, always has injuries, discomforts or problems that may affect him; and that deprive him of being at his best level.
I did not have any injuries, but I reached a level of muscular overload that in the end prevented me from performing at my maximum level. And in a world championship you have to be one hundred percent. I marked this especially in swimming, especially in that second round; in which I suffered more and more. And this ended after projecting the bike and the race on foot.
He always wore a very high muscle tension tone; but the line that separates from that to an injury is very fine. And I was not aware of it until Yokohama, with Leeds almost on top.
I made a small break to try to recover; and until the last moment I weighed the opportunity to go to Leeds, only. But as it was an opportunity to try not to get out of the championship; and, being well physically, I did not arrive with the necessary form to fight for something in a race as hard as Leeds.
I did not get the result. But at least I can not blame myself for not having tried.
Did you get worried?
No, although at the beginning, in the first races, I did not know the reasons well. If you are injured, you know that you are injured and that you can not compete. But in my case it is not something that happened from one day to the next. I was carrying it as I could. I was confident that the muscles recovered, but it was not enough rest and I did not get well in those races.
But the change of the last four weeks has been so great that we already know what the problem was. And I am very happy.