Mario Mola returns to the competition in the Super League Triathlon of Jersey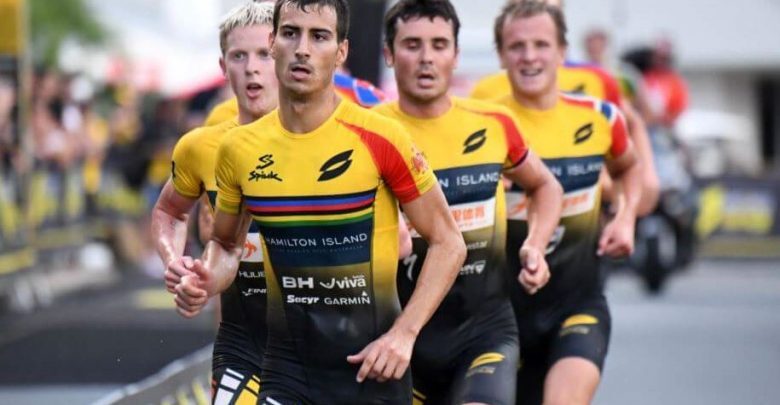 Triple world champion Mario Mola competes this weekend along with several of the best triathletes in the world in the Super League event in Jersey
This weekend returns the Super League Triathlon, a test that consists of three appointments that will be disputed the next weeks. This 28 and 29 of September will be the turn of Jersey. A month later, the October 27 and 28 test will move to Malta to finish the 3 and 4 the November in Mallorca. Previously, they have contested the Poznan and Pecticton events, which was a qualifying event to get places in the other competitions.
In the male category, the main favorites to win are the Mario Mola triple world champion, Kristian Blummenfelt winner last year in Jersey, Richard Murray winner of the Super League 2017 general and Vicent Luis, silver medal in the ITU World Cup this year.
In women, Americans are the favorites Nicola Spirit, current European champion, Vicky The Netherlands ITU world champion, Katie Zaferes world silver medal, Ashleigh Gentle y Summer Cook.
The test consists of two days with different competitions, Saturday 29 will be the Triple Mix and Sunday 30 the Enduro
What is the Triple Mix and the Enduro?
Triple Mix (29 September, 15: 00 Women, 17: 00 Men)
This is a test in which the triathletes will have to do 3 rounds changing the order of the sports with 10 minutes of rest between each of them. The starting position of each athlete will be where he finished in the previous round, where the winner will be the one who has achieved the best total time
Round 1
Swimming (300m), Cycling (6km), Race (2km)
(10-rest minutes)
Round 2
Race (2km), Cycling (6km), Swimming (300m)
(10-rest minutes)
Round 3
Cycling (6km), Swimming (300m), Race (2km)
Enduro (30 September, 15: 00 Women, 17: 00 Men)
The triathletes perform three times in a row a super sprint distance triathlon

Enduro
3 x (300 m swimming + 5 km cycling + 1,6 km race)
Further information: https://www.superleaguetriathlon.com