Triathlon News
Mario Mola wins in the World Series of Hamburg Fernando Alarza third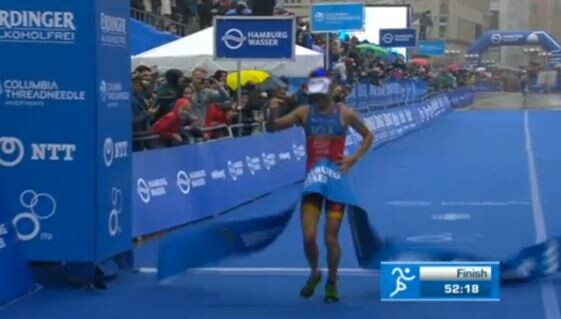 Richard Murray had to stop in the penalty box while he was at the head of the race with Mario Mola and was later declassified from the race
After the girls' fast race, where Katie Zaferes the victory has come the boys' turn where we had the 3 participants that will represent us in the Olympic Games, Fernando Alarza, who came as the world leader to the test, Mario Mola y Vicente Hernández.
The test started the 18: 50, being the first to get out of the water were Henry Schoeman, Tommy Zaferes and Aaron Royle, Mario Mola left 10º to 7 seconds of the head while Fernando Alarza to 12 and Vicente Hernández to 13.A Richard Murray was reprimanded with 10 penalty seconds for leaving the neoprene out of his box.

Already on the bike, a large group of 34 units was formed with all the favorites among which were Mola, Alarza, Hernández, Murray and the Polyanskiy Russians. in the final part of the route it started to rain and there was a fall where Vicente Hernández was involved, fortunately without consequences. The group arrived all together with the T2 being Richard Murray and Mario Mola the first to go out running. Fernando Alarza came out in the last positions due to a slip that was in the final part of the group at the entrance to the transition, which made him lose positions and leave with a few seconds of disadvantage compared to the leaders of the test
In the first meters of the race Murray and Mola went ahead, where the South African was setting the pace very fast, little by little they were taking advantage to fight for the victory. Behind in the fight for the third position was in a group of 6 with Alarza, Royle among others.
Finally the victory has been for Mario Mola in a time of 52: 19 followed by Richard Murray a 14 seconds after stopping in the penalty box, although it was finally declassified by unsportsmanlike behavior of the test.
The second place was disputed by Jake Birtwhistle y Fernando Alarza in a tight sprint, where finally after analyzing the arrival they gave the 2º position to Birtwhistle and the 3º a Fernando Alarza.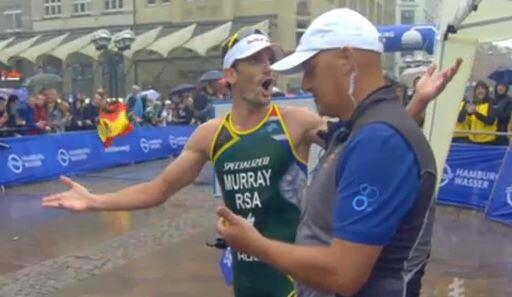 As for the rest of the Spanish participation Finally Antonio Serrat was 30º Vicente Hernández y David Castro they retired from the race
| | | |
| --- | --- | --- |
| Mario Mola | ESP | 0: 52: 19 |
| Jacob Birtwhistle | AUS | 0:17 |
| Fernando Alarza | ESP | 0:17 |
| Joao Pereira | BY | 0:23 |
| Ryan Bailie | AUS | 0:26 |
| Marten Van Riel | BEL | 0:29 |
| Tyler Mislawchuk | CAN | 0:32 |
| Andreas Schilling | THE | 0:38 |
| Rostislav Pevtsov | AZE | 0:39 |
| Jonathan Zipf | GER | 0:04 |
You may also be interested in this