Mario Mola goes back down from 14 minutes in the 5 km of a sprint triathlon. He does so by running at an average of 2:43 min / km
Yesterday the final of the French Grand Prix was played with the victory of Majorcan Mario Mola.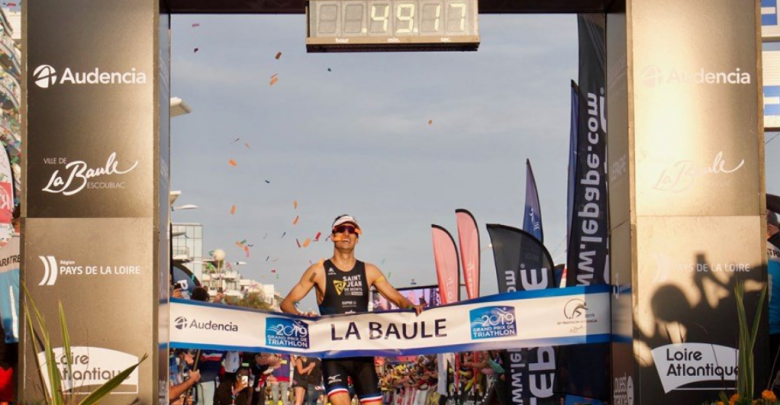 Mario Mola He has achieved victory in the final of the French Grand Prix (La Baule Homme) falling below 14 minutes in a Sprint triathlon.
You have achieved a time of 13:35 to complete the distance, which means an average of 2:43 min / km
Anthony Pujades was the first to get out of the water ahead of Pierre Le Corre and a very stretched group with Dorian Coninx, Mario Mola and Vincent Luis among others.
After T1, a group of about twenty units was formed with all the favorites. The group was increasing its advantage over its pursuers to reach T2 with 25 seconds ahead.
In T2, Vincent Luis and Anthony Pujades are the fastest and start running first, followed by the rest of the group.
The two French set the pace, but it's Mario Mola who will manage to make the best time in the race with 13: 35, finally getting the victory in a time of 49: 19. The second was Vicent Luis (49: 27) and third Jelle Geens - 49:31
#TriALB - Superbe arrivée of the Finale du Grand Prix hommes! #GPFFTRI @FFTRI @TriatAudencia pic.twitter.com/mGaVxtBupU

- Audencia (@audencia) September 21, 2019


Mario Mola's best time in the distance

Mola invested a time of 13: 35 to complete the 5.000 meters of the race on foot, getting for the fourth time down the 14 minutes in a Sprint triathlon.

His best brands have been in Hamburg 2015 (13: 55), Mooloodaba 2014 (13: 55) and Hamburg 2018 (13:59) and now in the Grand Prix La Baule Homme - 13:35

With this victory he has also achieved his record in a sprint triathlon with a time of 49: 19.

In the WTS, his best time was in 2014 in the London test where he got gold with 49: 46.

Alex Yee has the best brand

The young British triateta is the triathlete who holds the best mark in an 5.0000 of a Sprint triathlon with 13: 29.18 achieved in the Diamond League