Marisol Casado, alarmed by Yu's campaign to remove him from the ITU presidency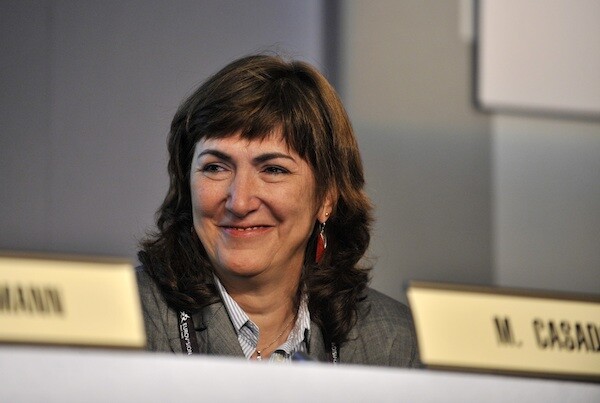 The Spanish Marisol Casado, member of the IOC, feels "knocked out, affected and very concerned" by the campaign launched by the South Korean Kyung-Sun Yu to replace her in the presidency of the International Triathlon Union (ITU) and considers that it could harm the good consideration that his sport has in the Olympic organizations.
Married, president of the ITU since 2008 and, thanks to this, an IOC member since 2010, is running for a new term in the elections to be held on October 23 in Auckland (New Zealand), in which he will also be a candidate Yu, current vice president and who had not informed the Spanish of his intentions.
"I did not expect at all that there would be another candidate because the management of these four years has been excellent. Everyone agrees ", Casado told Efe today.
The ITU president says that "the fundamental problem, what worries me the most, is what message we are sending to the IOC".
"It seems to me that there must be very strong reasons to want to oust a president who has only been in office for four years and only two as a member of the IOC," he added.
According to Casado, "when it takes eight or twelve years and it has been done completely wrong, it is understood. But in these years we have only had successes. You can not talk about the need for urgent change. There can only be personal reasons."
The South Korean Yu, president of the Asian Triathlon Confederation since 2003, had to resign last spring as head of mission of the South Korean team that was going to play the London Games, when he was involved in a judicial investigation for corruption related to the company that directs, Eugene Corporation. He was ultimately not convicted.
In the opinion of Marisol Casado, "the great success of the triathlon in the London Games has raised a lot of envy".
The Spanish recalls that in September 2013 the IOC will decide which are the 25 permanent sports on the Games program, among the 26 that have participated in London 2012, and that it is not convenient to give the image of a problematic federation.
In addition, he points out that "at this time, the Triathlon is a model federation. But turbulence like a change of presidency would put us in a totally different group and can send a worrying message."
"I am very concerned about the October 23 election. My homework is done, and well done. But if Yu's candidacy goes ahead, it's because something strange is going on, and I can't fight against that," he said. "It's hard for me to get into this campaign. My campaign is my four years in office."
Casado has not spoken with Kyung-Sun Yu about his surprise candidacy: "We are in the middle of the season and I just continue working, but I will have to make a communication effort so that the problem is well understood."
The Spaniard fears that Yu "will base her campaign on unsubstantiated accusations" against her and affirms that her rival "is using partial reports from the ITU Executive to manipulate them against me. And she accuses me of expenses that don't exist. I am the most austere president on earth. I don't even travel on 'business'".
"I have the consolation that, if he wins the elections, I know it will be for something strange," insists Casado, who if he lost the ITU presidency would also cease to be a member of the IOC because he was elected due to his federative position.
EFE