Marta Jiménez and Raúl Amatriaín, Spanish Champions of Medium Distance Triathlon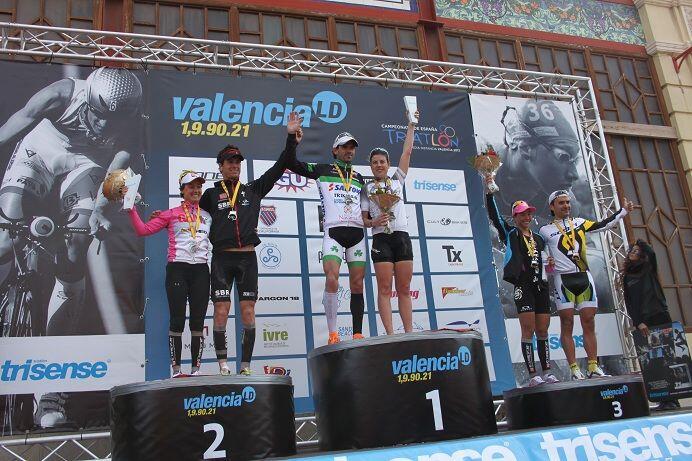 The first edition of Valencia LD already have names. Amatriaín Raul has won the Championship of Spain celebrated in Middle Distance today in Valencia. In women's category, Marta Jimenez has dominated without a doubt all the evidence in making this first meritorious podium position.
In an exciting race, where in men's category, the first place has been defined in the bike segment, the French Sylvian Sudrine, has been able to demonstrate its position clear favorite entering with a wide difference in the second transition to start the run . In the last trick that the Spanish had to overcome the French in this segment, since he came with a knee injury, the distance has been such that despite the fact that Raul Amatrialn, Mikel Blanchard and Richard Calle have done everything possible , they have not managed to overcome the minutes necessary to catch up to the French triathlete, World Long Distance Champion 2010
In the female category, Marta Jiménez gave the long-distance jump in this event, despite competing throughout last year in the Spanish team in international events and on the Olympic distance, she had not yet demonstrated her ability in Medium Distance. Eva Ledesma and Saleta Castro who started as favorites in the test, and after suffering a small mistake at the start time, arriving at the pontoon with about a minute late, they could not catch up with Marta, who did not look back for a moment during the race and that dominated her from the first moment.
In addition, this test has had the paratriathlon category, as well as age groups.
The luxury guest has been the Olympic triathlete, Xavi Llobet, who has participated together with the team of WWWTri with the professional cyclist Oscar Pujol and the paratriathlete Francesc Sola, who have defended the colors of this association, led by Isa Janssens, and dedicated to helping people with disabilities, reduced mobility and functional diversity through Sport. Upon arrival at the finish line Xavi, as host of the event, wanted to thank all the triathletes and family members who have come to Valencia this weekend to participate in this spectacular triathlon and congratulations to all those who have achieved meet his challenge.
With the help of TriSense, organizer of the event, hundreds of triathletes have been able to enjoy this circuit where they have had the maximum attention to the athlete, which has made Valencia, one more year, become a national benchmark in the organization of events sports.
Male Podium
1st 4:01:56 SUDRIE SYLVAIN FRANCE
2:4:06 01nd AMATRIAIN ARRAIZA RAUL SALTOKI TRIKIDEAK
3º 4:08:30 BLANCHART TINTÓ MIQUEL CN SABADELL
4º 4:10:01 MARTINEZ RICHARD CN PRAT-TRIATLO STREET
Women's Podium
1st 4:34:39 JIMENEZ JIMENEZ MARTA CITY OF LUGO FLUVIAL
2:4:40 09nd EVA LEDESMA CALVET BIG DUTCHMAN
3º 4:45:41 CASTRO NOGUEIRA Mª SALETA CITY OF LUGO FLUVIAL