More than 1.600 triathletes in the Spanish Duathlon Championship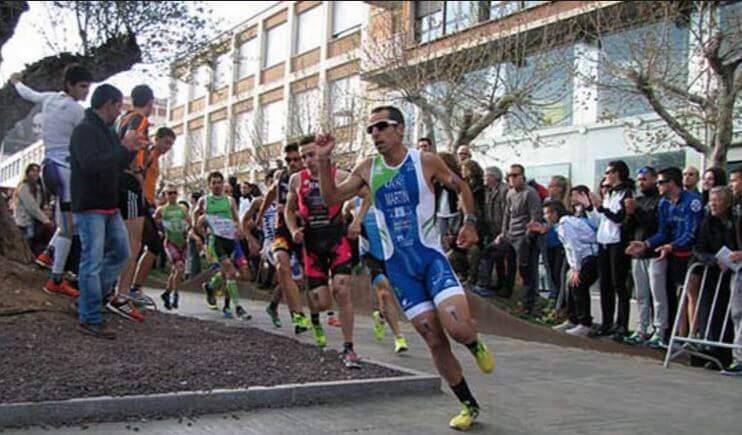 {wbamp-meta name="image" url="/images/stories/noticias/emiliomartin-campeonatoespana-duatlon.JPG" width="742″ height="435″}
This weekend in the town of Vall d'Uixó in Castellón will be held the Duathlon Spain Championship with the participation of more than 1.600 athletes.
The current world runner-up Emilio Martín is the main favorite to win in the men's competition, while in women an open race is expected with the participation of 9 top2016 and the return to competition of the reigning champion of Spain Paula Garcia Godino three and a half months after being a mother.
In the male category Emilio Martín is the main favorite to win and next to Huelva there are several duathletes with options to the podium as Sergio Lorenzo, Iván Cáceres, Francisco Javier Carroto, Jesús Gomar o Ramón Ejeda. It also has real options to fight for the first positions the obstaclers Luis Miguel Martin Berlanas and Eliseo, the two best Spanish athletes of 3000 obstacles of all time., Able to stand up to the invincible Afriacan. Berlanas has 2 Olympic diplomas in Sydney 2000 and Athens 2004, while Eliseo was bronze medalist in the Paris 2003 World Championship.
While in the female category the test is very open with several candidates for the podium: Sara Bonilla, Davinia Albinyana, Noelia Juan, Laura Gomez y Sonia Bejerano. The current champion, PGarcia classroom He told us that his participation was a surprise, so his fitness is an unknown. Neither does Claudia Luna (champion in 2015) who has spent a difficult winter because of the injuries, although for "gallons" of champion, always have to be taken into account. Finally stake the low Mavi Garcia who will be competing in the first round of the Spanish Cycling Cup.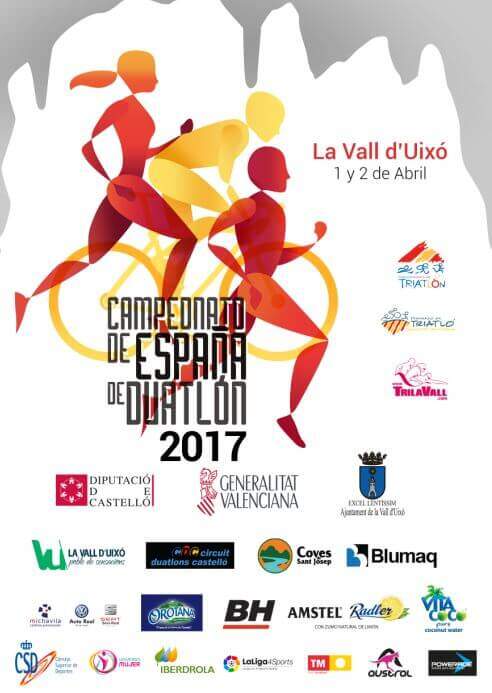 Distances
The distance of the elite test will be 5 km of running, 22 km of cycling to finish with 2,5 km of running.
Schedule
Here we detail the schedules of all weekend competitions:
Saturday April 1
09: 00 → Spanish Paratriathlon Championship
11: 00 → Championship of Spain Male Cadet
12: 00 → Championship of Spain Female Cadet
15: 00 → Spanish Championship Age Groups - Distance Sprint
17: 00 → Championship of Spain Age Groups - Short Distance
Sunday April 2
09: 00 → Spanish Junior Men's Championship
10: 30 → Spanish Junior Women Championship
12: 00 → Spanish Elite Men's Championship
13: 30 → Championship of Spain Elite Women
To finish we want to highlight the large participation of paraduatletes, with 28 athletes of different categories 7. To mention that every year the number of veteran duathletes in category V3 and V4 is more. In total, 29 will be the 60 duathletes or more, with three 75-79, Francisco Rodríguez, Guillermo Morales and Ximo Rubert standing out. There will also be two women + 60 years, the "mythical" Montserrat Clavero and Mª Consuelo Alonso.
Finally, it should also be noted that, like last year, three generations of "Ruberts" will be at the start of the Spanish Championship: Ximo Rubert in 75-79, Ximo Rubert, son in 45-49 and Pasqual Rubert, grandson in cadet category .
Photo FETRI