More than 1.250 participants will close Mediterranean Triathlon in Alicante.
This weekend Alicante Triathlon may the finishing touch to Mediterranean Triathlon 2019.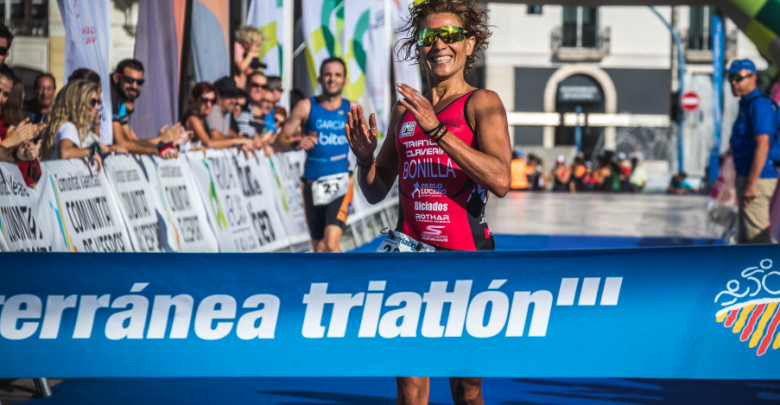 The town of Alicante It will be the nerve center of the triathlon of the Valencian Community during the days 28 and 29 of September.
More than 1.250 participants will meet to dispute this consolidated triathlon in its different modalities.
The activity will start on Friday 27 in the afternoon. In the area of ​​the square of the port the participants of the tests of Saturday will be able to pick up their number and witness the technical meeting, where all the details of the competitions will be detailed.
On Saturday morning we can enjoy the competitions Super Sprint, which will be taken at the start of the 8.30, half an hour later it will be the turn of the test Sprint. At the 11.30 the different awards deliveries will take place. In the afternoon it will be the awards ceremony and Sunday technical meeting.
As usual in the Mediterranean Triathlon circuit, Alicante will have a school test that will be on the first day at 12 hours. This School Aquatlon, will be responsible for opening XXXVIII Vialterra Sports Games of the Valencian Community.
During the second day of competition the test will be held in Olympic distance, which will start at 8.15 hours. Once the competition is over we will put end point to the circuit With the awards ceremony.
Postiguet beach, the swimming enclave
All triathletes will swim at Postiguet beach, they will walk the streets of Alicante, in the Olympic distance they will have to go around the castle of Santa Barbara and cross the finish line in the Plaza del Puerto. Some very intense routes, in which the participants can enjoy competing in a big city like Alicante.
From Friday in the area of ​​the square of the port the smallest of the house can enjoy playing the Triathlon, in the Minitriatlón area. Throughout the weekend all the girls and boys who wish may come there to perform a multitude of games related to sport and triathlon. Everyone who participates can take a commemorative medal.
During the weekend, the Mediterranean Triathlon circuit will also be put to an end, which has three important offices in Castellón, Valencia and Alicante, and that year after year is consolidated in the regional and national calendar.
In the awards ceremony of each modality, the trophies of the circuit will be given to all those who have participated in the three venues.
In addition, we can meet the three clubs with the highest participation, which will get € 1.000, € 600 and € 300.
4.000 participants in the circuit this year
In this third edition Mediterranean Triathlon has managed to have more than 4.000 participants.
#EligeTuReto #NosVemosEnLaMeta