Cycling world champion Mathieu van der Poel… will compete in an IRONMAN!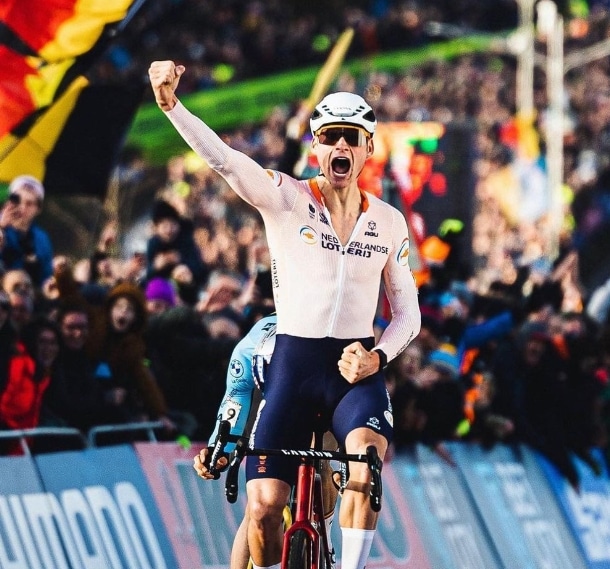 The world of triathlon is about to witness an unprecedented event. Mathieu van der Poel, recognized worldwide for his exploits in cycling and cyclocross, has decided to immerse himself in a new challenge: competing in an IRONMAN.
It all started with a bet on a YouTube video
It all started as a friendly bet during the recording of a video with YouTubers Average Rob and Arno The Kid.
While Van der Poel shared his knowledge about BBT techniques, the challenge arose: if the video exceeded 42.000 likes, the three would commit to running an IRONMAN.
The response was overwhelming, and the video quickly surpassed 60.000 likes, sealing the promise of Van der Poel.
Mathieu van der Poel Not only did he accept the challenge, but he confirmed his participation in a complete IRONMAN, which includes 3.800 meters of swimming, 180 km of cycling and a walking marathon.
This statement has generated great expectation, since it is not common for an athlete of his caliber in cycling to venture into triathlon, much less in an event of the magnitude of an IRONMAN.
Who is Mathieu van der Poel,?
Mathieu van der Poel, a renowned Dutch professional cyclist, excels in road, mountain and cyclocross disciplines. Born on January 19, 1995 in Kapellen, Belgium, Van der Poel He currently defends the colors of the Belgian team Alpecin-Deceuninck.
His career is marked by remarkable versatility and a succession of impressive successes. In the world of cyclocross, Van der Poel He has won the World Championship five times (2015, 2019, 2020, 2021, 2023) and has been crowned European Champion three times (2017, 2018, 2019).
In the field of road cycling, his record includes victory in the World Road Championship in 2023, as well as triumphs in prestigious competitions such as Milan-San Remo (2023), the Tour of Flanders (2020 and 2022), the Paris -Roubaix (2023) and the Amstel Gold Race (2019), among others.
Preparation and Expectations
Preparation for an IRONMAN is intense and demanding, especially for someone used to competing in cycling and cyclocross.
However, Van der Poel He is known for his dedication and his ability to face new challenges.
The triathlon community is looking forward to seeing how he adapts to swimming and running, and how his cycling experience will influence his IRONMAN performance.
Their presence in the competition will attract the attention of fans and media around the world, which could further boost the popularity of the sport.
Date and location yet to be determined
Although the exact location where Van der Poel will make its debut at IRONMAN, there are several candidate cities that could be the perfect setting for this great event.
One of these cities is Kona, Hawaii, known for hosting the IRONMAN World Championship.
Kona is not only a paradise for triathletes, but also an exceptional tourist destination, with its stunning beaches, volcanic landscapes and rich Hawaiian culture.
Will it be good for the trialthon?
The decision Mathieu van der Poel competing in an IRONMAN has opened up a range of possibilities and expectations.
His transition from cyclist to triathlete is a testament to the versatility and competitive spirit that characterizes great athletes.
Without a doubt, his participation in the IRONMAN will be an event that will mark a before and after in his career and in the world of triathlon.