Maxime Hueber and Maurine Ricour win the duathlon at the World Games
In the women's event, 12 duathletes were disqualified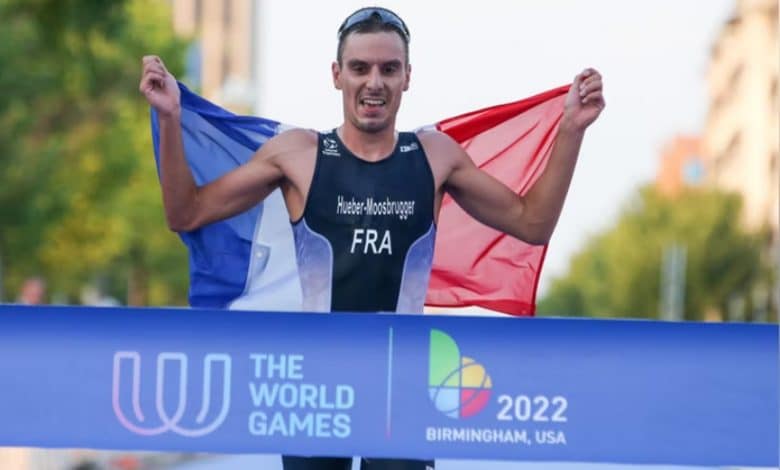 Yesterday a duathlon event was held for the second time in history at the World Games in Birmingham (USA)
Launched in 1981, the World Games were designed to be an international event with sports that were not part of the Olympic Games.
Triathlon was originally included in the program in 1993, before its full incorporation into the Olympic Games in Sydney 2000, and it has been in 2013 and 2022 that duathlon has been part of the World Games.
In the men's event the victory went to Maxime Hueber with a time of 1: 47: 57 followed by Benjamin Choquert (1: 48: 20) and for Victor Emmanuel (1: 48: 56) in third position.
In the female category the victory was for Maurine Ricor with a time of 2:01:38 followed by Ai Ueda (2: 01: 58) and for Joselyn Brea (2: 02: 42) third.
No Spanish participated in the test.
12 triathletes disqualified
In this test there were 12 disqualified duathletes since they did not complete the marked circuit
Men's 10 Top
| | | | | |
| --- | --- | --- | --- | --- |
| Position | Athlete First Name | Athlete Last Name | Country | Total Time |
| 1 | Maxim | Hueber-Moosbrugger | FRA | 01:47:57 |
| 2 | Benjamin | Choquert | FRA | 01:48:20 |
| 3 | Victor Emmanuel | Zambrano Gonzalez | MEX | 01:48:56 |
| 4 | Angelo | Vandecasteele | BEL | 01:49:04 |
| 5 | Arnaud | Dely | BEL | 01:49:32 |
| 6 | Vincent | Bierinckx | BEL | 01:50:12 |
| 7 | Nathan | Guerbeur | FRA | 01:50:45 |
| 8 | Samuel | mileham | AUS | 01:52:20 |
| 9 | Michael | October | SUI | 01:52:28 |
| 10 | joseph isaac | Valencia Villaverde | MEX | 01:52:34 |
Top 10 female
| | | | | | |
| --- | --- | --- | --- | --- | --- |
| Position | Athlete First Name | Athlete Last Name | Country | Status | Total Time |
| 1 | Maurine | ricour | BEL | | 02:01:38 |
| 2 | Ai | Ueda | JPN | | 02:01:58 |
| 3 | Joselyn daniely | Brea Abreu | VEN | | 02:02:42 |
| 4 | Marion | Legrand | FRA | | 02:02:58 |
| 5 | Sandrina | Islands | TUE | | 02:03:49 |
| 6 | Edymar Daniely | Brea Abreu | VEN | | 02:05:08 |
| 7 | She | Diederiks | NED | | 02:07:02 |
| 8 | Natalie Ann | Strong | RSA | | 02:11:16 |
| 9 | Aleisha | Wesley | AUS | | 02:19:00 |
| | Kareena | Othman | JOR | dnf | 00:00:00 |
| -1 | Karin | Nieuwenhuijsen | NED | DSQ | 00:00:00 |
| -1 | Guadalupe Jasmine | Aguilar Corona | MEX | DSQ | 00:00:00 |
| -1 | Madder | Blaut | FRA | DSQ | 00:00:00 |
| -1 | Merle | Brunnee | GER | DSQ | 00:00:00 |
| -1 | Nikola | Corbova | SVK | DSQ | 00:00:00 |
| -1 | Marion Kim | mangrobang | PHI | DSQ | 00:00:00 |
| -1 | Luisa daniela | Vargas | MEX | DSQ | 00:00:00 |
| -1 | Laura | swannet | BEL | DSQ | 00:00:00 |
| -1 | Lotte | Claes | BEL | DSQ | 00:00:00 |
| -1 | Anthoanela | manak | ROU | DSQ | 00:00:00 |
| -1 | Deanna | Newman | USA | DSQ | 00:00:00 |
| -1 | Ann | Schoot Uiterkamp | NED | DSQ | 00:00:00 |
| -3 | Kari | Giles | USA | LAP | 00:00:00 |
| -3 | Diana | Gal | ROU | LAP | 00:00:00 |