Spain Bronze in the mixed relay event in the European Sub-23 Triathlon Championship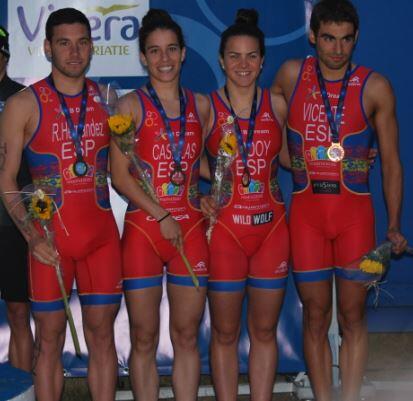 The mixed Sub23 relay consisting of Anna Godoy, Ricardo Hernández, Miriam Casillas y Óscar Vicente has achieved third position in the European Championship of the modality celebrated this Thursday in Dutch lands. The Spanish team stood out in the first places throughout the competition.
Spain came to the appointment with two powerful teams, the first of them composed by Melina Alonso (recent Spanish sprint triathlon champion), Uxío Abuín, Tamara Goméz and Vicente Hernández. This first group would occupy seventh place in the general classification. The second team that presented the Spanish delegation consisted of Anna Godoy, Ricardo Hernández, Miriam Casillas and Óscar Vicente
Ahead, the combined alemán crossed the finish line in first position, and the Russians seconds entered 24 seconds of the winners. For its part, the Spanish team reached the third place in the Mixed Relay European Championship Sub23.
From very early on, the Germans staged a getaway. Behind the Russians and in another group were the teams from Spain, Italy, Hungary and Ukraine. Having arrived at the cycling sector, the Hungarians were left behind, with the rest competing for the medals.
At the beginning of the last post, Óscar Vicente started an attack on the run on foot, which allowed him to overtake the Italian Davide Uccellari, and culminated in the achievement of the bronze medal for the Spanish team.
On Friday, the popular competitions will take place, which will give way next Saturday 29 to the European Championship Sub23 in male and female categories. Two competitions in which the Spanish expedition will be widely represented and in which part with serious options to the final podium.
FETRI