The "Mediterranean Marathon League" is born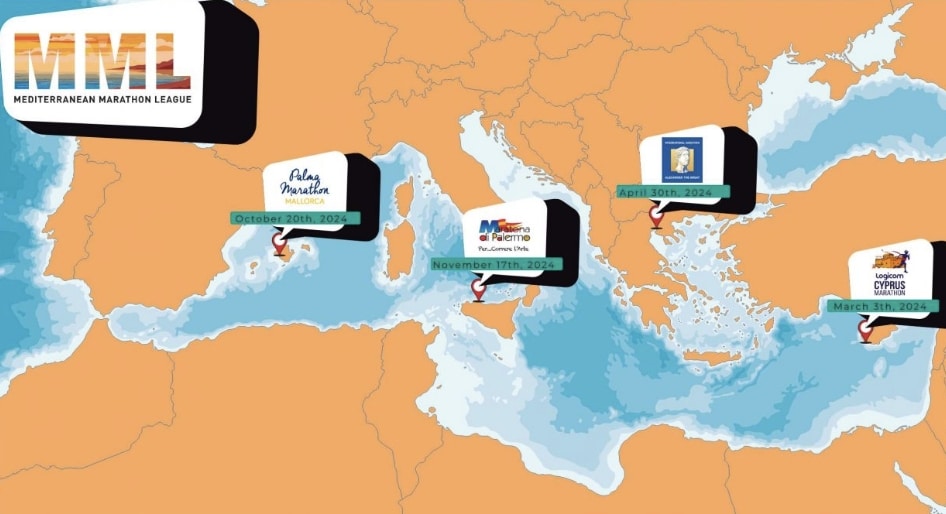 In an unprecedented event, four international marathons that share the shore of the Mediterranean Sea have joined forces to create the Mediterranean Marathon League.
This project is born from the commitment of Palma Marathon Mallorca (Spain), the Logicom Cyprus Marathon of Pahos (Cyprus), the Alexander The Great International Marathon Thessaloniki (Thessaloniki, Greece) and the Palermo Marathon (Italy).
The directors of these four events signed the founding agreement today at the Palma City Council, just on the eve of the Palma Marathon Mallorca which is being held this Sunday. Although the league will not officially start until 2024, the excitement is already in the air.
These tests are not only recognized for their international character, but they are also great tourist and sports destinations.
Furthermore, they are all members of the AIMS (International Marathon Association), which guarantees high standards of organizational quality.
Benefits for Winners
The male and female winners of each event will be guaranteed the number and accommodation to participate that same year or the following year in another of the events that make up the League.
Additionally, there will be drawings for one of the popular participants to win these perks as well.
Calendar of Events
The league will open on March 3 with the Cyprus Marathon, in the beautiful coastal town of Paphos.
The second appointment will be Alexander the Great Marathon, in Thessaloniki on April 21.
In October 2024, the Palma Marathon of Mallorca will celebrate its twentieth anniversary coinciding with the birth of the league.
Finally, the Palermo Marathon The first edition will close in mid-November next year.
More details and news will be announced in the coming weeks on the official website www.mm-league.com.
| Date | Event | City | Country | Available Distances |
| --- | --- | --- | --- | --- |
| Winners will be announced in March | Logicom Cyprus Marathon of Pahos | Paphos | Cyprus | Marathon, Half Marathon, 5 and 10km |
| April 21 | Alexander The Great International Marathon Thessaloniki | Thessaloniki | tracksuit | Marathon |
| October | Palma Marathon Mallorca | Palma de Mallorca | Spain | 9km, Half Marathon, Marathon |
| Mid November | Palermo Marathon | Palermo | Italy | Marathon, Half Marathon |