Melanie Mquaid, Cros Triathlon World Champion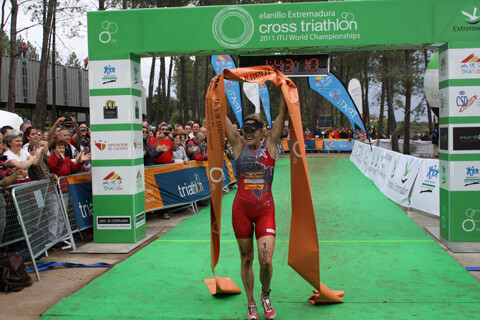 The Canadian Melanie Mcquaid, with a great track record on the podium in XTERRA competitions in recent years, today managed to be crowned, in "El Anillo" (Cáceres), 2011 Cros Triathlon World Champion, with a total time of 1:43:02
The second to reach the finish line was the American Shonny Vanlandingham, 1:43:25 and third the, also American, Emma Garrard 1:43:43
In the first transition he has not given clues about the final classification, like the tests held this morning, the segment that has defined the final positions has clearly been cycling. The Spanish who started as favorites, Zuriñe Rodríguez and Helena Herrero, have corroborated expectations, reaching the finish line in 6 and 10 positions respectively.
In the interview with Zuriñe Rodríguez, who did a total time of 1:47:34, he commented to us when he entered the finish line and after a tough race in which he never lost his smile, "it is one of the most successful races. tough I've run, despite fearing a tough bike segment this morning due to the rain and muddy ground, the ground was firmer than expected. I have lost positions in this segment, but even so, I have enjoyed every pedal stroke that I have given, and the race was the final one to put me in a good position at the finish line "
Also highlight the performance of Spanish Helena Herrero, current Spanish Champion of Triathlon Cros 2010, Natalia Raña and Saleta Castro.
FEMALE ELITE
1 McQuaid Melanie CAN 01: 43: 01
2 Vanlandingham Shonny USA 01: 43: 24
3 Garrard Emma USA 01: 43: 43
4 Jeffrey Christine CAN 01: 45: 22
5 Lorblanchet Marion FRA 01: 47: 16
6 Rodriguez Zurine ESP 01: 47: 34
7 Bucher Renata SUI 01: 48: 13
8 Crown Adriana Fabiola MEX 01: 50: 34
9 Sloan Susan RSA 01: 51: 27
10 Herrero Helena ESP 01: 51: 31
SUB23 FEMALE
1 Poor Brigitta HUN 01: 53: 11
2 Schmidt Kairi EST 02: 01: 53
3 Medne Baiba LAT 02: 05: 10
4 Schmidt Helen EST 02: 11: 46
5 Gomez Garrido Tamara ESP 02: 11: 50