Melina Alonso, at the High Performance Center of Madrid.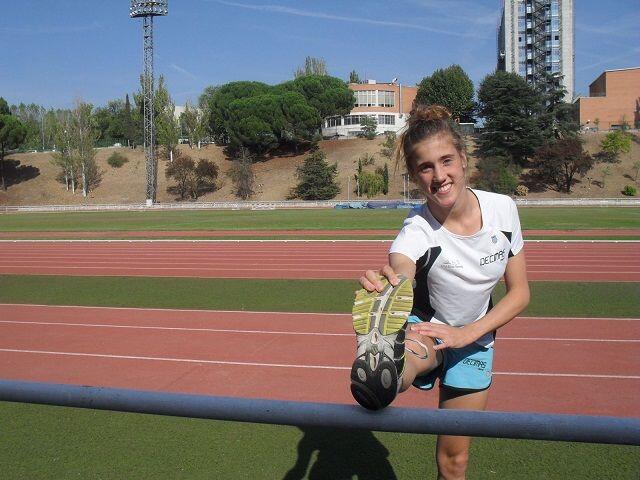 "Wherever you go there is a sports atmosphere"
The brilliant results of Melina Alonso have been her entry card at the Blume Residence in Madrid. From this Monday, an archer is his new roommate.
She finished her season with the bronze medal in the Junior Duathlon World Championship in Gijón, a sporting success that will have its academic reward since it will allow her to study Physiotherapy next year, as she is considered a High Level Athlete. "We must greatly value the facilities they give us", recognizes a Ferrolana aware of what it has cost her to enter, since in the Blume there are only scholarships for 12 triathletes. "For someone to enter, he has to kick another person out and there are very good people here."
Everything is now focused on improving his level, something he will need at the end of his junior stage and become part of the sub-23 category. Therefore, the requirement will be increased in each race. "I'm not only going to race with the U-23s anymore, but also with the elite because we all started together. The classification is sub-23 but to compete, you have to compete with everyone ".
Share hours of work with triathletes of the stature of junior world champions Fernando Alarza y Mario Mola -who also fights for a place in the next Olympic Games-, Vicente Hernández –Junior European champion-, Carolina Routier –current champion of Spain under-23-, Galician Uxío Abuín –Duathlon junior world champion- or promises such as Anna Godoy, David Castro or Nan Oliveras, make La Blume the most appropriate place for Melina Alonso to face this category jump.
After a year in which the junior from Ferrol achieved an eighth place in the European Championship, the Spanish Triathlon Championship, the Galician Championship -finishing second as absolute-, her recent bronze in the Duathlon World Cup, to which we must add , along with her companions Camila Alonso, Miriam Casillas, Estefanía Sande, Eva Teijeiro and Sara Velo, promotion to the First Division of the Ferrol Triathlon women's team in the Club League, silver in the Spanish Sprint Championship and third place in the Copa del Rey held in the departmental city - being the youngest team-, Melina will work to take another step at an international level.