Melina Alonso in the TOP 10 of the Junior European of Pontevedra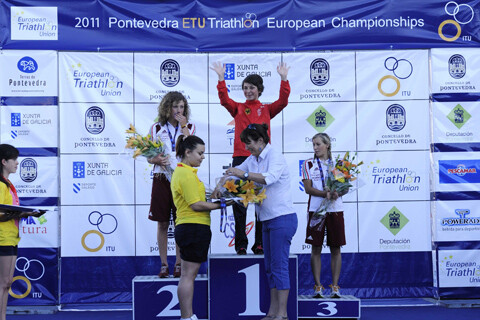 LA GALLEGA MELINA ALONSO IN THE TOP 10 OF THE EUROPEAN PONTEVEDRA
The German Hanna Philippin is the new Junior European champion after completing the Pontevedra triathlon circuit with almost 20 seconds of advantage over the second with a total time of 1:05:42.
Philippin did not imagine achieving such a result because "I am not a good swimmer and I went back, by bike I got into the leading group and in the race on foot I pushed because it is what I do best". The second and third place in the Junior female category went to Hungarian Dudas and Pap.
Regarding the Spanish participation, Melina Alonso was the best classified with 8th place. The Ferrolana was very happy at the end of the race, which she commented "was decided on foot. I stood to one side in swimming so as not to receive many blows, on the bike we worked a lot and a large group reached the final segment "
The four representatives of the Spanish team got into the leading squad in cycling, which caught the breakaway leader on the last lap. After a tough race on foot due to the heat, Ana Godoy reached the finish line in 15th position, Miriam Casillas she finished in 17th and Camila Alonso in 32nd place.
In the photo we can see the first three classified together with Marisol Casado, President of the International Triathlon Federation and CIO Member
| | | | | |
| --- | --- | --- | --- | --- |
| 1 | Filipino | Hanna | GER | 01:05:42 |
| 2 | Questions | Eszter | HUN | 01:06:00 |
| 3 | Cardboard | Eszter | HUN | 01:06:01 |
| 4 | Petrini | Elena Maria | ITA | 01:06:07 |
| 5 | Vössing | Annika | GER | 01:06:08 |
| 6 | Orazem | Monika | SLO | 01:06:25 |
| 7 | Vilic | Sara | CRO | 01:06:31 |
| 8 | Alonso | Melina | ESP | 01:06:41 |
| 9 | Hall | Lucy | GBR | 01:06:46 |
| 10 | Gomez-Islinger | Marlene | GER | 01:06:53 |
Source: FETRI