Mario Mola «My dream is to fight for medals in Tokyo»
The Mallorcan triathlete, with a guaranteed place for the Games, will take advantage of the WTS to get ready for the Olympic event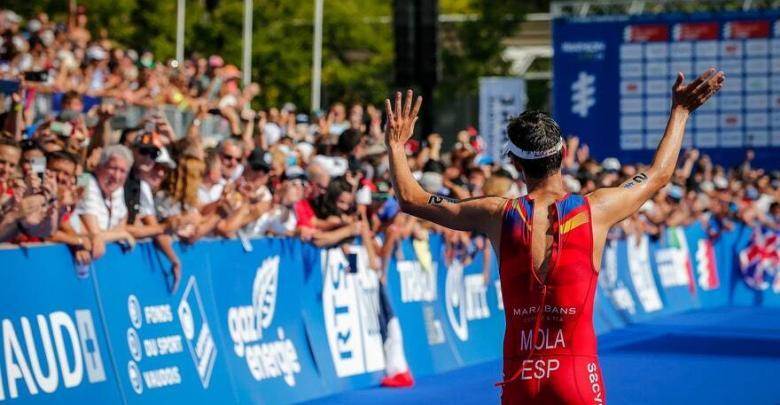 The Mallorcan triathlete Mario Mola, runner-up in the triathlon world this year, said Monday that his goal in the 2020 is win a medal at the Tokyo Olympics as reported by the newspaper sports world in a presentation at Can Picafort.
El three times triathlon world champion and winner of seven medals in a row in that sports specialty has ensured that in Tokyo he will maintain the work plan that has given him so many successes.
"Let's try not to change too many things"
Mario Mola proclaimed himself runner-up of the world in the Grand Final played in the Swiss town of Laussane last August, breaking a streak of three consecutive world titles.
"We will try not to change too many things, because I think that when everything works, going crazy or trying to change it would not make much sense", He said.
In the Grand Final he could not beat the French World Ranking Vicent Luis, training partner who came to the last test with a good advantage.
«My illusion is to fight for medals in Tokyo«, He acknowledges ambitiously,« and without a doubt the World Series is the best preparation ».
"It cost me more to have the right motivation to win a world cup"
The silver medal was a small disappointment for Mola, who also dragged back muscle problems in the past months of April and May, which finally cost him the World Cup.
"Earlier this season it was more difficult for me to have the right motivation to win a World Cup. I have been so used to having seasons where everything went smoothly, and I know it shouldn't be that way.
Even if things don't work out, you have to have the motivation to get back where you think you should be. And that is what made me retrain and at the highest level, "Mola said.
With an eye on Tokyo
Regarding Tokyo, the Balearic triathlete believes that "it will be easier to stay hungry and want to do things right".
«Tokyo will be the test that we will prepare with more care and enthusiasm, but we must not forget that we are not used to training eight or nine months just for one race. I'm going to take advantage of the World Series as preparation, without going crazy about the schedule«