Mikel Elgezabal signed by BH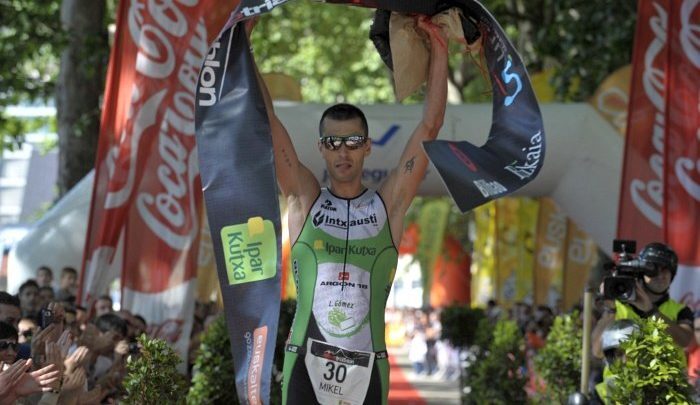 The triathlete Mikel Elgezabal winner in the 2011 of the Ironman 70.3 UK and the Bilbao Triathlon has signed for BH
2011 was a great year for Mikel Elgezabal, with victories at the Ironman 70.3 UK and at the Bilbao Triathlon. After his recent incorporation to the BH Team, the Biscayan triathlete hopes that this new season will be even more successful and, especially, to achieve a good place in the European Championship in Frankfurt and to gain a place in the Ironman in Kona.
Here is an interview conducted by BH:
Are you a biking enthusiast. In fact, it was in this sport that you started competing. Later, you dedicated yourself to the duathlon and now you are part of the triathlon elite. What caught your attention the most about this discipline?
Unfortunately, I couldn't continue cycling because the team I belonged to disappeared. I was young, and I became involved in this sport because it was related to cycling and it was also a sport that attracted me. I was lucky to find some sponsors and I pushed forward.
Did the transition from cycling to triathlon cost you a lot?
Well, at first yes, especially the foot race. Being cycling for so many years, the muscles had been worked differently, and I suffered various injuries, tendonitis and things like that ... but little by little I felt better. Swimming was not too bad for me, and I was also evolving in this segment step by step.
What do you think is the most beautiful thing about triathlon?
The most beautiful thing is that it allows you to change sports, and you don't have to focus on just one, which makes training more enjoyable. And there are few sports that allow you to compete around the world like this, traveling is another of its strengths. Like the people you meet, most of them are very nice.
You have a very complete track record, is there a victory that you remember with special affection?
At an international level, the UK Half Ironman has been the most important triumph, but the second places in Zarautz or the victory in Bilbao, because it is at home and all the people who came to see me there, are the successes that fill me the most.
Now you are part of the BH Triathlon Team, what made you decide to sign for BH?
The truth is that BH's involvement with triathlon encouraged me a lot. It is helping a lot to the people who are dedicated to this sport. In addition, I have competed for many years in cycling with BH bikes, with which I have achieved great results. I hope that this year it continues to be that way.
Have you had the opportunity to be with the rest of your colleagues?
I have met Eneko in many races and I get along very well with him. For me he is one of the best triathletes in the world, a national and international reference. I also know Nico, and in Lanzarote I have met with the Olympic people. I have had a very good relationship with everyone.
You have the G5, the Aero, and the Lynx. What would you highlight of these models?
The G5 is very good, it is a very versatile bike. I am testing the Aero now and the frame is spectacular, I have attached very well to this model and I ride very comfortable on it. The one that I am going to use the most, in long distance competitions, will be the Aero. With the G5 I will do some short distance tests, and it will also be a key pillar in my training sessions. In addition, I am waiting to receive the Lynx, I really want to try it because all the references that have come to me from it are very good.
How would you define yourself as a triathlete? What are your strengths and those where you think you have room for improvement?
After so many years as a cyclist and riding well in that field, I think my strength is and will continue to be the bike. However, this is going to be my sixth year in triathlon, and I'm spending more time training running and swimming, where I still have room for improvement. I hope to take another step this year and get closer to the people in front in international events.
How is the season going? What is your main objective?
I have several challenges. The first, trying to repeat the triumph in Bilbao, and also opt for the triumph in Zarautz, where I have already achieved several second places. Other important points of the season will be the Ironman 70.3 in the UK, where I will also seek to revalidate the first place, and the European Championship in Frankfurt. I want to qualify for the Kona World Championship, which this year is going to have a lot of impact with the participation of Armstrong, and try to be among the 50 best in the world.
What advice would you give to a person who is new to this world?
Be patient and start easy, because triathlon is a sport that requires a lot of sacrifice and perseverance. You should not set a very demanding short-term goal, as results and improvements take time to come. And keep going, which is a very beautiful sport.
The routine of the workouts and the hours of training will depend on whether or not you have a test nearby. But, what can you tell us about your preparation?
I train by volumes during the week depending on the test I attend, from workouts of almost 40 hours a week to 20 hours or less. It depends on the objective and date.
Do you combine indoor and outdoor training? Do you usually use BH Fitness machines?
Yes, I combine outdoor and indoor training. I usually do specific workouts on BH Fitness indoor machines in the gym, especially for very fast races, using the treadmill, and high-powered bike sessions. Soon I will have a BH Fitness machine for home, I really want to have it on hand and be able to train with it. I think these types of devices are very important in a preparation.
With all the hours you spend training, we imagine that you will have little time for leisure alternatives. In any case, what are your hobbies?
This sport requires periods of rest that do not leave me much room to dedicate to a hobby. At most, going to the movies, being with friends, going for a walk with my wife… Whoever is training for many hours at the elite level, I don't think they have many hobbies or, at least, they really want to do something else after training.