Miquel Blanchart Long Distance European Champion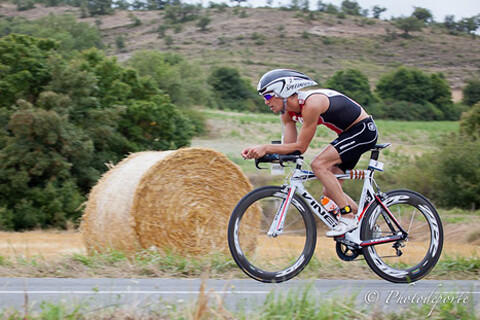 Great weekend for the Spanish Triathlon, Miquel Blanchart has been proclaimed today European Champion of Long Distance Triathlon, Peru Alfaro, third place and Richard Calle, eighth
If only a month ago Miquel Blanchart proclaimed himself Champion of Spain of Medium Distance Triathlon in Vitoria, it was today, in the Finnish town of Tampere, when he has shown that coincidences do not exist, showing his superiority over his rivals by reaching the finish line in first position, with a total time of 05:33:07.
In second place came the Finnish Jarmo Hast, with a time of 05:37:32, and the third place has been for the Spanish Peru Alfaro, 05: 38: 26.The other Spaniard who has represented Spain in this Championship, Richard Calle, 05:40:41, achieved the eighth position, thus maintaining the three Spaniards in the Top10 of the test.
The triathletes had to complete a circuit of 4000 meters by swimming, 120 km by bike and 30 kilometers of running on foot. At the exit of the water a first group of about 10 triathletes was formed, among which were the Spaniards, once they reached the transition Miquel Blanchart remained between 5th and 6th place during the 120 kilometers that the cycling segment lasted in the that Peru Alfaro was shooting two positions ahead.
It was in the 30 kilometers of the running segment where the three podium positions were finally defined.
Peru fought for second place until kilometer 25, while Miquel Blanchart was advancing positions until he surpassed all his opponents and in this way achieved first place "If in Vitoria I was happy to have managed to be the champion of Spain in this distance, today it has been even more exciting. I felt good in the swimming segment despite being the last of the first group, I felt strong, in the cycling segment I kept my positions and it was at the time of the foot race where I managed to climb to the first position. My next challenge, in Las Vegas "
Peru Alfaro in turn achieved this worthy third place in the European Championship "I have not had very good feelings during the race, despite not feeling well, I managed to get out of the water well, maintain positions in the cycling segment, and place myself in the second place until kilometer 25 of the race on foot, but finally he lost this second place just 5 kilometers from the finish, to enter third position. Despite my feelings, I am happy with this result "
Photo: http://www.photodeporte.com/
TOP 10 OF THE TEST
1 Blanchart Miquel ESP 05: 33: 07
2 Hast Jarmo FIN 05: 37: 32
3 Alfaro San Ildefonso Peru ESP 05: 38: 26
4 Vabrousek Petr CZE 05: 38: 53
5 Dalgaard Emil DEN 05: 39: 05
6 Annovazzi Matteo ITA 05: 39: 47
7 Kovacic Jaroslav SLO 05: 39: 57
8 STREET MARTINEZ RICHARD ESP 05: 40: 41
9 Yaroshenko Nikolay RUS 05: 40: 43
10 Petræus Rasmus DEN 05:41:33
All results:
http://www.triathlon.org/results/results/2011_tampere_etu_long_dictance_triathlon_european_championships/5856/