Advance: Miquel Blanchart second in the Ironman of Lanzarote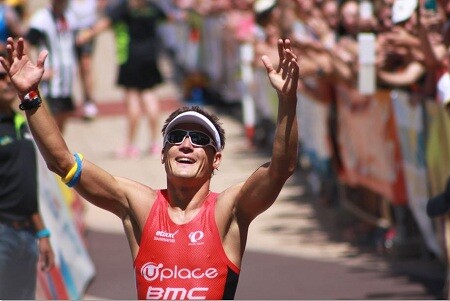 Romain Guillaume and Lucy Gossage have been the winners in the 23º edition of Ironman Lanzarote
More than 2.200 triathletes have faced this morning the 3,8 km of swimming followed by 180 km of cycling, by the harsh places of the island, followed by 42 km of running.
The young man Romain Guillaume (29 years old) has achieved victory with a final time of 08:47:39 followed by the Spanish Miquel Blanchart in second position, after making a spectacular race on foot climbing several positions, getting a time of 8:58:06. Third has been for Bert Jammaer with a time of 09: 00: 44.
In the female category, Lucy Gossage got the victory with a 09 time: 41: 40 followed by Susan Blatt and Corine Abraham third.
The Spanish Saleta Castro has achieved a great 5º square with a final time of 10: 12: 35
Further information: http://eu.ironman.com/triathlon/coverage/athlete-tracker.aspx?race=lanzarote&y=2014#axzz31zchkXL5