Miquel Blanchart and Saleta Castro, Spanish champions of medium distance triathlon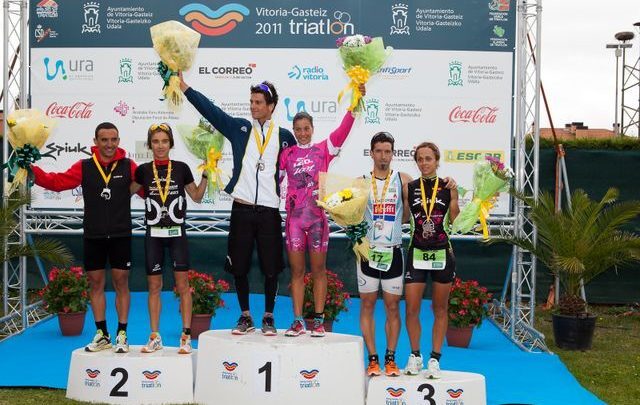 Miquel Blanchart and Saleta Castro They were crowned yesterday the Spanish Champions of medium-distance triathlon after completing in the first place the 1.900-meter swim, 91 kilometers by bicycle and 21 kilometers of running, in a championship that began in the Landa reservoir, near the capital of Alava , and concluded at the Betoño de Gasteiz facilities.
In the men's category, against all odds, the Catalan Miquel Blanchart won the victory after completing the route in 3 hours and 57 minutes. Blanchart went from less to more in the triathlon and after enduring in the swimming and bicycle tests, he took advantage of the last 21 kilometers of the test to overtake Richard Calle and prevail over the finish line alone and with a comfortable advantage over him. second place, Richard Calle, who stopped the clock in four hours. The third place was obtained by Aimar Agirresarobe, in his first participation in a state championship.
Author: Photodeporte
Blanchart won this event in Gasteiz after the great favorite for the victory and current champion of Spain in Long Distance, Peru Alfaro, had to withdraw midway through the test due to the inconvenience that prevented him from showing his best face and achieving the victory.
In the female category, the forecasts were fulfilled and the Galician Saleta Castro won the test ahead of the Navarrese Ana Casares and the veteran Inmaculada Pereiro. The triathlete from the Cidade de Lugo Fluvial remained in the lead positions during the almost two kilometers that the participants had to swim and took advantage of the 91 kilometers by bicycle to take command of the test. Castro only needed half the test on a bicycle to beat his rivals. From there, the athlete knew how to regulate the effort she made during the first part of the championship and crossed the finish line in first position in 4 hours and 36 minutes, leading by almost six minutes to the second classified and in seven, to the third.
The circuit where the test was held yesterday was designed in such a way that the spectators could enjoy the spectacle of a race of this level, despite the fact that in this edition, Basque triathletes of great international prestige such as they are Eneko Llanos and Virginia Berasategi.
IX sprint triathlon In parallel to the Spanish Medium Distance Championship, the ninth Virgen Blanca triathlon was held in Gasteiz. The event, which was organized by the Araba Ascentium, the Alava Triathlon Federation and Euskadiko Triatloi Federazioa, was contested in sprint distance consisting of 750 meters swimming, 21 kilometers cycling and 5 kilometers running.
In this triathlon the Australian Tamsyn Moana-Veale won the women's category, who completed the route in 1 hour and 12 minutes, while the winner in the men's category was her countryman Joshua Maeder, who did the same with a time of 1 hour and 4 minutes.
Source: deia.com