Miriam Casillas first Spanish in the Olympic Ranking and promotion of more than 500 positions in the world ranking
In the last seven weeks Miriam has achieved four top10 and two podiums in four World Cups.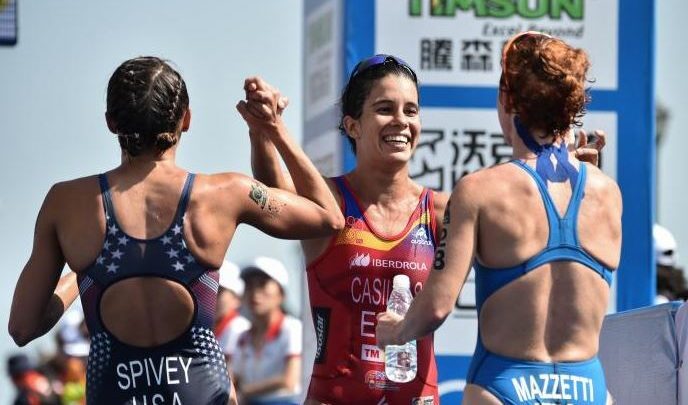 Return Miriam Casillas the competition has been spectacular, since last August until today the Extremadura has risen more than 500 positions in the world ranking and it has been placed as first Spanish in the Olympic ranking. Miriam has been the best Spanish triathlete of the year in the short distance
The 2017 season was very difficult for Miriam Casillas since it practically could not compete in all the year. After the WTS dispute in Yokohama, the 13 in May did not compete again due to injuries.
Almost a year later the 5 of May of 2018 rHe went to the competition in the Chengdu World Cup, where I achieved an 8ª square in the semifinal and ran the final but could not finish it. He had to make a small break due to some physical discomfort to return to the competition the 4 of August in the Malmö European Cup.
At that time Miriam occupied the 587 position in the ITU world ranking, with "only" 33 points. In the Swedish city began the "road to Tokyo" particular triathlete Ferrol Triathlon Club. There he took the victory in a big way, ahead of Olympic runner-up in London 2012 Lisa Norden. Subsequently the 18 of August was 22ª in the World Cup of Lausanne, host city of the Grand Final of the WTS 2019 and days later the 2 of September Miriam ran the World Cup of Karlovy Vary where she was forced to leave.
The super Autumn of Miriam
The September 22 Miriam Casillas began its "super fall", being terrace at the Weihai World Cup in China. Later he traveled to the USA and achieved the 10ª place in the Sarasota World Cup. Finally he returned to Asia, his continent talisman in this 2018, to be 7ª in the Tongyeong World Cup and close the year last 10 in November with the 3ª position in the Miyazaki World Cup.
With all these results of the last four months Miriam has ascended more than 500 positions in the world ranking. Right now it occupies the 61st position with 1625,98 being the second Spanish, after Anna Godoy which is the 53rd with 1766,41. Let us remember that in the ITU Ranking the points of the 6 best competitions of the last year and the 6 best of the penultimate are added.
On the other hand, as regards the qualification for the Tokyo Olympics, Miriam Casillas is the first Spanish in the 38 position with 1352,17 points. Anna Godoy is the second in position 49 with 1144,03. As of today, both would have two places for Spain in the next Olympic games.
Photos: ITU