Monica Sáez 10ª at the Winter Triathlon World Championships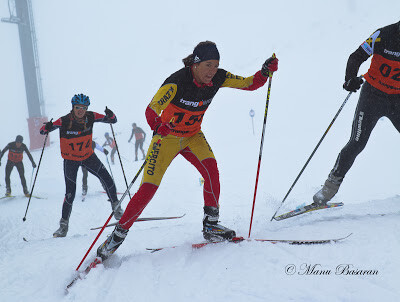 The triathlete of the Mayencos Brico-Jaca Triathlon Mónica Sáez has finished in the 10th position in the Winter Triathlon Elite World Championship, which was held on Saturday in the Finnish town of Jamijarvi. This is one of the best results obtained by Spain in the female category of the modality.
After the first 6 km of running, Mónica made a great first set (4th best time), entering with a group of 5 triathletes who took the MTB 25 seconds behind the Finnish Maija Oravamaki, who would ultimately be bronze. However, the bicycle segment was the worst for the Mayencos athlete, as expected, since she was unable to train mountain biking on snow. In this partial he lost almost 10 minutes and all the options to get on the podium. Despite this setback, Sáez did not collapse and against all odds he made one of the best ski sets, 7th, losing just one minute to real specialists. His final time would be 1:35:08.
The gold medal went to the Norwegian Borghild Lovset, followed by the Czech Sarka Grabmullerova and the Finnish Maija Oramavaki.
In the men's category, Jon Erguin also played a great role, finishing in 13th position.
Classifications:
Women's Classification
| | | | | | | | | | | |
| --- | --- | --- | --- | --- | --- | --- | --- | --- | --- | --- |
| 1 | Borghild | Lovset | NOR | | 01:22:02 | 00:23:29 | 00:00:54 | 00:29:26 | 00:01:10 | 00:27:01 |
| 2 | Sarka | Grabmullerova | CZE | | 01:24:35 | 00:23:05 | 00:00:55 | 00:32:59 | 00:01:00 | 00:26:34 |
| 3 | May | oravamäki | END | | 01:25:25 | 00:22:40 | 00:01:01 | 00:33:41 | 00:01:29 | 00:26:32 |
| 4 | Testimonial: Yulia | Surikova | RUS | | 01:25:57 | 00:23:41 | 00:00:46 | 00:32:56 | 00:00:55 | 00:27:37 |
| 5 | Eva | Skalnikova | CZE | | 01:26:00 | 00:23:06 | 00:01:00 | 00:34:40 | 00:01:03 | 00:26:11 |
| 6 | Tatiana | Charochkina | RUS | | 01:26:43 | 00:24:08 | 00:00:51 | 00:34:53 | 00:00:53 | 00:25:58 |
| 7 | Emma | Garrard | USA | | 01:27:20 | 00:23:04 | 00:01:00 | 00:34:55 | 00:01:07 | 00:27:12 |
| 8 | Ksenia | Chernykh | RUS | | 01:27:32 | 00:26:06 | 00:01:07 | 00:31:54 | 00:00:58 | 00:27:25 |
| 9 | Giuliana | Lamastra | ITA | | 01:33:17 | 00:25:29 | 00:01:02 | 00:35:11 | 00:01:27 | 00:30:07 |
| 10 | Monica | Saez | ESP | | 01:35:08 | 00:23:05 | 00:00:55 | 00:42:14 | 00:01:38 | 00:27:14 |
Male Classification
| | | | | | | | | | | |
| --- | --- | --- | --- | --- | --- | --- | --- | --- | --- | --- |
| 1 | Paul | Andreev | RUS | | 01:10:31 | 00:19:17 | 00:00:42 | 00:25:43 | 00:00:40 | 00:24:08 |
| 2 | Arne | Post | NOR | | 01:10:37 | 00:19:38 | 00:00:47 | 00:27:31 | 00:00:49 | 00:21:50 |
| 3 | Andreas | Svanebo | SWE | | 01:10:50 | 00:19:56 | 00:00:48 | 00:26:17 | 00:00:57 | 00:22:50 |
| 4 | Daniel | Antonioli | ITA | | 01:10:58 | 00:19:40 | 00:00:49 | 00:26:40 | 00:00:52 | 00:22:56 |
| 5 | Sigi | Bauer | TUE | | 01:11:39 | 00:20:55 | 00:00:41 | 00:25:02 | 00:01:04 | 00:23:55 |
| 6 | Markus | Rothberger | TUE | | 01:11:43 | 00:19:53 | 00:00:50 | 00:25:54 | 00:01:08 | 00:23:56 |
| 7 | Brian | Smith | USA | | 01:12:13 | 00:19:53 | 00:00:51 | 00:26:13 | 00:01:12 | 00:24:02 |
| 8 | Kristian | Monsen | NOR | | 01:12:29 | 00:19:37 | 00:00:51 | 00:27:21 | 00:01:10 | 00:23:27 |
| 9 | Evgeny | Kirillov | RUS | | 01:12:36 | 00:19:40 | 00:00:41 | 00:26:53 | 00:00:47 | 00:24:33 |
| 10 | Paul | Arkhipkin | RUS | | 01:13:16 | 00:20:44 | 00:00:48 | 00:28:41 | 00:00:42 | 00:22:20 |