MTRI València with 1.600 triathletes is close to 30% female participation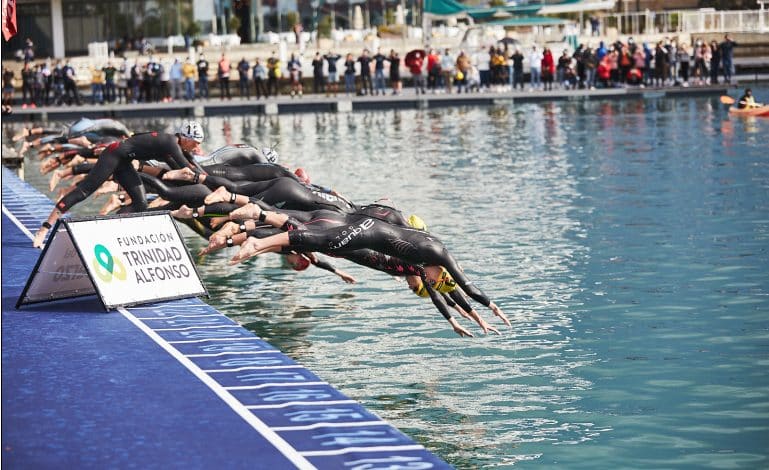 The number of participants continues to grow, especially these weeks in which the test is facing a rate change.
Last week it closed with more than 100 registered and this same figures continue at a similar rate.
More than 1.600 registered triathletes
The test is on the way to 1.600 registrations, of which almost 30% are female (29%) and 71% are male.
In both profiles there is the circumstance that many participants see MTRI València as an opportunity to get started in triathlon. In this sense, today the competition has almost a 60% of non-federated participants.
What the markup shows popular character of MTRI Valencia. The Organization has always shown interest in promoting triathlon from the grassroots. Cadets are the youngest category to be able to participate.
They can do it remotely supersprint, while the juniors will be able to compete in sprint distance y supersprint.
Among those registered we have athletes from all over Spain and 1% international participation.
The wide range of distances and modalities favors the possibility that athletes see the Mediterranean Triathlon circuit as a competition for everyone.
Triathlon World Cup
We are about to know the starting list that we will have in the Valencia Triathlon World Cup. Information shared by the World Triathlon approximately 30 days before the event.
This is the second competition of these characteristics that will be held in the city of Valencia, after the one experienced in 2020. Which, on the other hand, was the only World Cup event held that year after the situation caused by COVID.
This year is definitely going to be exciting. The headquarters, located in La Marina de València, will host for the first time an audience that will be able to vibrate at the finish line with the best triathletes in the world.
Among the international ranks we hope to have the elite Valencian triathletes Roberto Sánchez Mantecón y Noelia Juan.
Noelia has just competed in the Pontevedra World Cup, being 6th overall and the best Spanish triathlete in the standings. Her international career is perfectly on track and she will surely face the final stretch of 2022 with a tight schedule and a desire to compete in her city.
Roberto Sánchez Mantecón recently finished his first part of the season competing in the World Series in Hamburg, and after a vacation break he has returned to training with a vengeance.
The Valencia Triathlon World Cup will be held on September 3. At 16.45:18.45 p.m. the women's start and at 3:4 p.m. the men's start. The popular tests will be held both on Saturday, September XNUMX, and on Sunday, September XNUMX, in the morning.
Registration for the popular competition will close on August 24.
More information in www.mediterraneatriatlon.com