Murúa fought for the podium until the last moment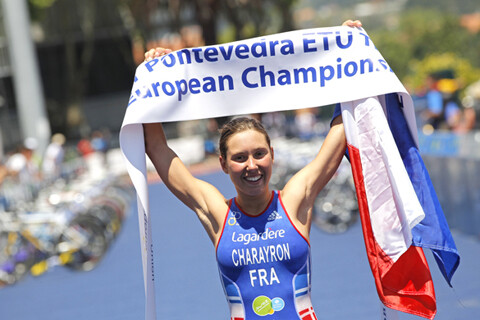 The French Emmie Charayron took the 2011 European Championship, after leading the race on foot from the first moment 2:04:00.
At almost a minute and a half, the Czech Frintova took second place in the final sprint, while the Italian Mazzetti finished in third position.
The Spanish Ainhoa ​​Murua fought until the last moment for the podium position, but finally she could not stand the change of pace on the last lap, making a fourth place.
For the winner, victory was not easy as she is not used to swimming in the river and in the last lap of cycling she found herself without water. "Thanks to my teammates, who gave me water, I was better able to reach the last segment," said Charayron after crossing the finish line.
The Frenchwoman won the title despite "the pressure of wearing number one.
Although the triumph of the junior world and European U23 champion in 2009 was clear, the head of the race got off the bike in a group of more than 30 triathletes.
As soon as Charayron set the pace, Frintova, Mazzetti and Murúa followed her to distribute the rest of the medals among themselves.
Despite the midday heat of Pontevedra, Ainhoa ​​Murúa was grateful that the fans for the streets of the old town "took me on the fly".
In the top 10 of the test we could also count on the presence of the Navy Damlaimcourt, which achieved the 6th position in the test.
The Spanish María Pujol 22 and the Galician Marta Jiménez 30, while Zuriñe Rodríguez had to leave in the cycling sector.
Results: http://www.triathlon.org/results/results/2011_pontevedra_etu_triathlon_european_championships/6550/
TOP 10 OF THE TEST
1. Emmie Charayron FR 2.04.00
2. Vendula Frintova CZE 2.05.27
3. Annamaria Mazzetti ITI 2.05.28
4. Ainhoa ​​Murua ESP 2.05.40
5. Yuliya Yelistratova UKR 2.06.10
6. Marina Dmlaimcourt ESP 2.06.21
7. Zsofia Kovacs HUN 2.06.22
8. Sarah Fladung GER 2.06.27
9. Helle Frederiksen DEN 2.06.29
10. Jodie Stimpson GBR 2.06.41
Source: FETRI