Murua and Alarza achieve the podium in the European Cup of Quarteira (Portugal)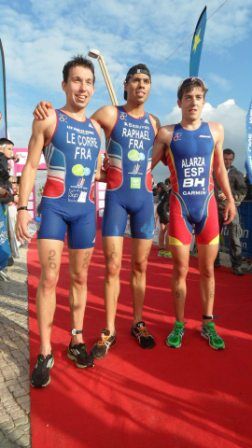 A total of 5 Spanish triathletes managed to get into the top 20 of the test, and 4 in the male category, in a test that had great Spanish representation.
France dominated the men's event, Aurélien Raphael and Pierre Le Corre, took the top positions on the podium, with a time of 1:49:27 and 1:49:48 followed by the Spanish Fernando Alarza who reached the finish line only 21 seconds apart.
The Spanish triathlete, Ainhoa ​​Murua, with her place already confirmed for the London 2012 Olympic Games, managed to proclaim herself the winner of the test on a podium shared with the Irish Aileen and the French Carole Perón who obtained second and third places respectively.
More information and results: http://www.triathlon.org/events/event/2012_quarteira_itu__triathlon_european_cup/
TOP 20 MALE CATEGORY
| | | | | |
| --- | --- | --- | --- | --- |
| 1 | Raphael | Aurelien | FRA | 01:49:27 |
| 2 | Le Run | Pierre | FRA | 01:49:31 |
| 3 | Alarza | Fernando | ESP | 01:49:48 |
| 4 | Pereira | Joao | BY | 01:50:12 |
| 5 | Fabian | Alessandro | ITA | 01:50:20 |
| 6 | Rouault | Gregory | FRA | 01:50:31 |
| 7 | Turbayevskiy | Vladimir | RUS | 01:50:40 |
| 8 | Gomar | Jesus | ESP | 01:50:44 |
| 9 | Vasiliev | Denis | RUS | 01:50:57 |
| 10 | Diemunsch | Etienne | FRA | 01:51:02 |
| 11 | Luis | Vincent | FRA | 01:51:19 |
| 12 | Pujades | Anthony | FRA | 01:51:24 |
| 13 | Abuin Ares | Uxio | ESP | 01:51:25 |
| 14 | AndrIAN | Thomas | FRA | 01:51:28 |
| 15 | Pevtsov | Rostyslav | UKR | 01:51:34 |
| 16 | Arraiolos | Miguel | BY | 01:51:38 |
| 17 | Sapunov | Danylo | UKR | 01:52:02 |
| 18 | Ruanova | Anton | ESP | 01:52:06 |
| 19 | Palma de Mallorca | Pedro | BY | 01:52:09 |
| 20 | Casadei | Alberto | ITA | 01:52:13 |
TOP 20 FEMALE CATEGORY
| | | | | |
| --- | --- | --- | --- | --- |
| 1 | Murua | Ainhoa | ESP | 02:03:00 |
| 2 | Morrison | Aileen | IRL | 02:03:27 |
| 3 | Peon | Carole | FRA | 02:03:43 |
| 4 | Abysova | Irina | RUS | 02:04:26 |
| 5 | Verstuyft | Katrien | BEL | 02:04:31 |
| 6 | Stanford | No | GBR | 02:04:36 |
| 7 | Ivanovskaya | Liubov | RUS | 02:05:40 |
| 8 | Petrini | Elena Maria | ITA | 02:05:43 |
| 9 | Jerzyk | Agnieszka | POL | 02:05:49 |
| 10 | Rosindale | Laws | GBR | 02:06:35 |
| 11 | Pedersen | Camilla | THE | 02:06:38 |
| 12 | Chmet | Daniela | ITA | 02:07:16 |
| 13 | All | xisca | ESP | 02:07:24 |
| 14 | Yelistratova | Yuliya | UKR | 02:07:35 |
| 15 | Moniz | Proceedings | BY | 02:07:36 |
| 16 | Godoy Contreras | Anna | ESP | 02:07:44 |
| 17 | Levkovska | Kseniia | UKR | 02:07:57 |
| 18 | Pujol | Maria | ESP | 02:08:05 |
| 19 | Jimenez | Marta | ESP | 02:08:22 |
| 20 | Annerstedt | Asa | SWE | 02:08:49 |