Murua and Burgos in the Top 10 of the Duathlon World Championship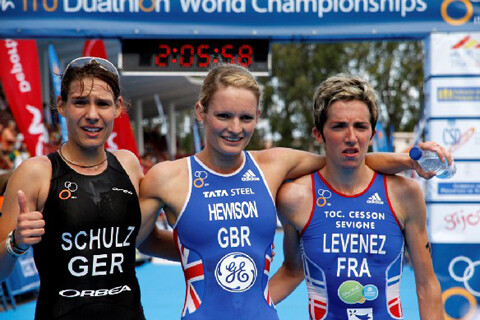 In the final stretch it was where the World Champion of the Gijón 2011 Duathlon was defined. The English Hewinson with a time of 2:02:45 followed by the German J.Schulz, 2:02:47, and completing the French Levenez podium, 2:02:54. Fifth place for Ainhoa ​​Murua and Sixth for Ana Burgos
Today the Triathlon World Championship was held in Gijón, with different categories throughout the day the Elite Women's event began at 11:45 at the "Las Mestas" Stadium.
At the start of the race we could see the two Spanish Ainhoa ​​Murua and Ana Burgos in the lead in the leading group with about ten triathletes. The favorite in the test, the French Sandra Levenez, was in this group. At the beginning of the cycling segment Ana Burgos got off this first group. Ainhoa ​​Murua practically ran the entire cycling route leading the race.
The transition was also very tight, Lévenez started the race on foot first, followed by Hewinson and Schulz. Finally, the three that achieved the podium were in the lead. In an exciting final sprint on the home straight, England's Hewinson finally took the title of Duathlon World Champion "I am really excited to have achieved this position, I was not expecting it, she is very excited. Last year I had some problems with my workouts and maybe not training as much as possible, but everything went well and now I am going home to rest.
The French Sandra Lévenez, was not so happy with the position obtained "she entered the two transitions in the first place and hoped to achieve the first position, after finishing as runner-up last year in the duathlon world championship in Edinburgh, she had a I have trained for this test and had high hopes of achieving the first place on the podium, but again it will continue working "
Ainhoa ​​Murua, after gaining the spot for the London Olympics just two weeks ago, and just landed in Spain, once again showed that she is a thoroughbred triathlete, fighting until the last moments. Ana Burgos had an excellent race on foot, leaving the first group on the bike, but returning to overcome positions in the race on foot, achieving this Top 10 in the World Championship.
In the Sub23 category that was contested at the same time, the French Cassan Ferrier achieved first place, and 4 place for the Spanish María Ortega.
All results:
http://www.triathlon.org/results/event/2011_gijon_itu_duathlon_world_championships/1629/