Triathlon News
Triathlon Madrid KM0 from the point of view of the national elite. We interview Natalia Raña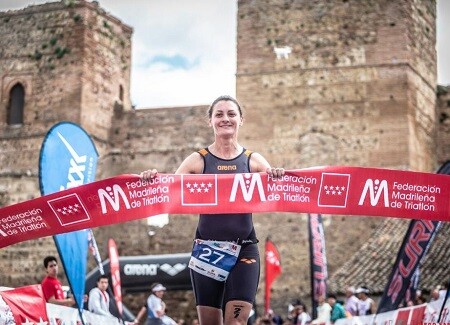 "Madrid KM0 Triathlon IS a very solid project and with very good prospects of becoming a reference LD TRIATLON worldwide"
"I love those triathlons of organizers who like this sport that break their horns for circuiting places that don't leave you indifferent as KMO Madrid Triathlon"
Galician based in Madrid, with adventurous blood and with many km "of experiences", Natalia Raña It is a reference in Spain in the world of Triathlon.
With almost two decades of "triathlon" on her legs touring circuits internationally and sharing experiences since she was only 10 years old with her little brother Iván Raña, Natalia is also a senior triathlon coach and material tester for Triathlon News, facets that endorse His professional career as a benchmark, both at the level of training (Diploma in EF and Bachelor of INEF) and his experience in the world of sports.
Natalia started playing sports with only 10 years, when every day he ran through "Galician lands" with his little brother Iván so as not to miss the bus that took them from Ordes to Santiago for their swimming training, making each day "an adventure". At age 18 he competed in his first test, achieving his first podium, under the guidance of his coach Cesar Varela.
Years later, Natalia remains in the National Elite combining his work with training that, although limited to take out the free time he would like, allows him to continue enjoying the sport and even achieve some podiums in the most relevant medium distance tests nationwide.
From Triathlon News we want to interview Natalia today, and thus know her point of view on TRIATLON MADRID KM0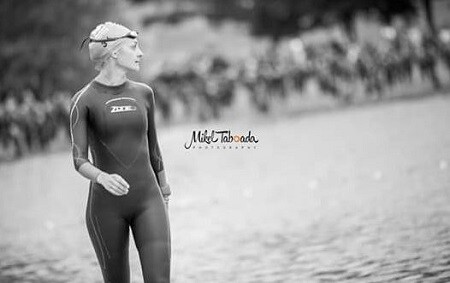 You have competed in many international events, and lots of different circuits and cities, so you have excellent criteria when selecting the tests to compete and / or recommend to athletes What do you think of the TRIATLON MADRID KM0 circuits and what Did you feel hearing that Madrid was going to host a circuit of this magnitude and nothing more or less than in Long Distance?
At first I thought it was a risky bet. Then you get to know who is behind the organization, you realize that it is a very solid project and with very good prospects of becoming a reference LD triathlon worldwide.
Swimming takes place in the Buitrago de Lozoya swamp, a beautiful place. The water quality is very good, very clear and calm.
The bike circuit can be equated to an important stage of the Vuelta a España, three important and mythical ports in the Sierra Madrileña will make this sector somewhat different from other Long Distance triathlons that you can find worldwide.
The race on foot through Madrid Rio taking advantage of an infrastructure created to show Madrid to the world through Olympic Games, to finish the test at the famous Puerta del Sol. A tall triathlon for a large Capital.
You no longer devote yourself professionally to the competition itself, but if we have seen you at the starting line, and even podiums, this year in the elite category, how do you combine your workouts and work to continue being in the national elite?
It is difficult to combine training and work. I should do many more sessions than I do but there are days when I don't feel like going out. In the pool your legs swell a lot from the heat and humidity and the sensations after training are horrible.
Even so, I try to do a minimum session a day, apart from adapting the classes that I have to give in an aquafitness pool to take advantage of and do career or strength technique, since I have to make it work for me too.
Galician based in Madrid, I suppose that part of your training during these years have taken place on the circuits in which this test will now be held. What would you tell the athletes who are going to compete or are thinking of enrolling in TRIATLON MADRID KM0?
To those who face this distance for the first time, first my admiration and respect. The Ironman distance is hard in itself and on this circuit this increases. I think the only fact that considering such a career is of brave people. It is a great challenge and I think that a "little more thread" in search of the physical and psychic limits of this sport.
I imagine that all those who dare a challenge like this are well prepared and little can be said. Just wish them luck and that everything goes face to face to cross the finish line at Puerta del Sol.
In addition to being an athlete, you are a coach. What advice do you give to triathletes who are going to face for the first time at this distance?
Those who face for the first time would be advised not to be afraid, just respect for distance. Eat and drink well on the bike. Try to regulate yourself on the bike, it is hard and with many kilometers ahead. The race ends up running and you have to get strong.
And above all, to get away with the idea that you are going to finish ... be finisher, that there are bad times, but that if you are clear about finishing, everything is overcome.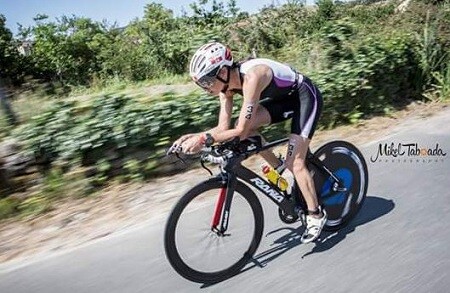 When choosing a circuit to compete or recommend to the triathletes you train, what are you looking for?
When I choose tests to compete I usually give a lot of importance to the organization. I want a safe place, that the circuits are well controlled, supplies and facilities to reach the transitions.
Another facet that is important to me is that the circuit be spectacular, if possible. Every time I like franchise triathlons less ... "all the same and polygon circuits", but this is a personal vision, perhaps because of my adventurous spirit.
I love those triathlons of organizers who like this sport that "break the horns" for circuiting places that do not leave you indifferent. It shows a lot later in the atmosphere that is in the race: Vitoria, Pamplona, ​​Palmaces, Guadalajara ... ..and of course Triathlon Madrid KM0
Would you recommend this test?
For those who come prepared with good training and kilometers above and looking for a challenge of height, I think that KMO is a good place to look for your limits.
Will we see you cheering on the triathletes you train this 2015 and on the starting line in 2016?
At the moment this year I am watching it from the barrier, although it has been very tempting to be able to participate ... just next year I go out (he smiles at us)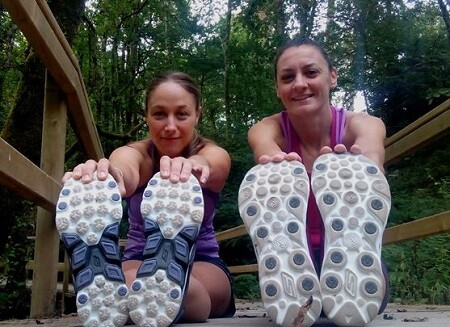 About Natalia Raña:
Natalia Raña Fuentes was born in Ordes (A Coruña) 37 years ago. She is the second of five brothers who have always been linked to the world of sports encouraged by their parents.
At the age of nine he began swimming at the Santiago Swimming Club accompanied by his little brother Ivan Raña. They attend their workouts three times a week. When they left school they took a bus that took them to Santiago and at the end they took another one back to their house.
For years he dedicates himself to swimming by participating in different Galician swimming championships.
During this time it is introduced into the world of athletics as part of the physical preparation for swimming.
At eighteen he participates in his first triathlon. Her swimming coach Cesar Varela is the one who encourages her to try this new sport.
During his first seasons in this sport is Cesar Varela who leaves the road bike to compete.
In these first years he only dedicates himself to triathlon in the summer months, obtaining the Spanish sub-championship in the Junior category in the Spanish Triathlon Championship held in Gijón in 1998.
The following year in Burgos he obtained third place in Junior and 7th Absolute.
After these results, the opportunity to go to train a scholarship to the Joaquín Blume Residence Hall in Madrid appears.
Start competing by representing the Spanish Triathlon Team for different events in Europe, obtaining podiums and finalist positions in many of them. Highlight the position of finalist in the European Under-23 Championship Antalya (Turkey) 3rd ITU EVENT Azoresy 7th ITU EVENT Copenhagen in addition to different participations in the World Cups in Nice and Hungary.
When his time at the Blume Residence ends, he returns to Galicia and decides to devote more time to his academic training by finishing his studies in Physical Education Teaching and starts the Bachelor of Science in Physical Activity and Sports at Inef-Galicia.
After years without competing in Triathlon, in 2010 he returns to the competition leaving 3rd in the Spanish Duathlon Championship in Soria, 14th Cros Triathlon World Championship in the Ring (Cáceres), 1st Duatlon Madrid Championship and Duatlon Cros.
At the moment it has reoriented its race towards the long distance obtaining good results in different tests on average distance.
3rd Half Triathlon Lisbon 2015
1st Ecotrimad middle distance 2015
3rd Half Pamplona 2015
5th Spanish Triathlon MD 2015 Championship
2nd ICAN-Malaga 2014 and 3rd in 2013
Natalia actively collaborates with TRIATLONNOTICIAS.COM writing material test, as well as being a Triathlon coach by the Spanish Triathlon Federation and working professionally in a gym such as Lifeguard and Swimming Monitor.
Author: Susana Sancha, Communication Challenge