Triathlon News
Nicola Spirig sweeps the European Triathlon Championship. Ainhoa ​​Murua Bronze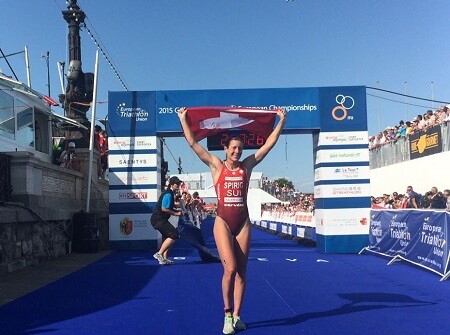 Ainhoa ​​Murua has earned the bronze
After the men's test it was the turn for the girls where the Spanish "triarmada" was formed by Ainhoa ​​Murua, Tamara Gómez y Miriam Casillas.
The first to leave the water were Jessica Learmonth and Lucy Hall closely followed by the Spanish Ainhoa ​​Murua in 13ª position, Tamara Gómez the 18.
Once on the cycling sector, a front group was formed with Jessica Learmonth, Lucy Hall and Margit Vanek, followed from behind by a group of 55 seconds, consisting of 7 units with Ainhoa ​​Murua among them.
Shortly after the British Learmonth and Lucy Hall imposed a strong rhythm, leaving in the lead increasing the difference in respect to their competitors, a group led by Nicola Spirig, Anna Maria Mazzeti, Lisa Norden, Ainhoa ​​Murua and Margit Vanek.
A few kilometers from the end, the chasing grupeto managed to hunt down the two heads, forming a group of 7 units with options to fight for victory. They entered the T2 Lisa Norden in the lead, followed by a group of 7 where Ainhoa ​​Murua was in sixth place. Tamara Gómez and Miriam Casillas arrived in the chasing group. Judie Stimpson arrived with 1: 30 disadvantage over the first triathletes to enter the T2.
Once in the foot race, the Swiss Spirig imposed a strong rhythm from the beginning, closely followed by Anna Maria Mazzeti, Lucy Hall and Ainhoa ​​Murua in fourth position.
In the first round, little by little the Swiss was increasing its advantage, followed closely by Anna Maria Mazzeti and Ainhoa ​​Murua, Lucy Hall and Lisa Norden.
The last kilometers were exciting to see how Spring was increasing his advantage but over Anna Maria Mazzeti and see how Aimhoa Murua retained the third place followed by Lucy Hall in fourth position.
Finally Nicola Spirig he won the victory and the European title arriving alone to goal followed by the Italian Anna Maria Mazzeti in second position and a great Ainhoa ​​Murua in third final position.Miriam Casillas y Tamara Gómez have entered the final TOP 20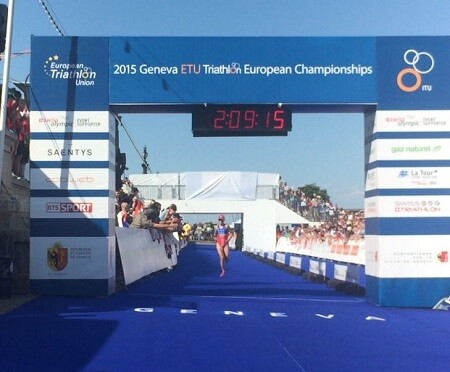 More information shortly