Nicola Spirig wins the Lisbon Triathlon World Cup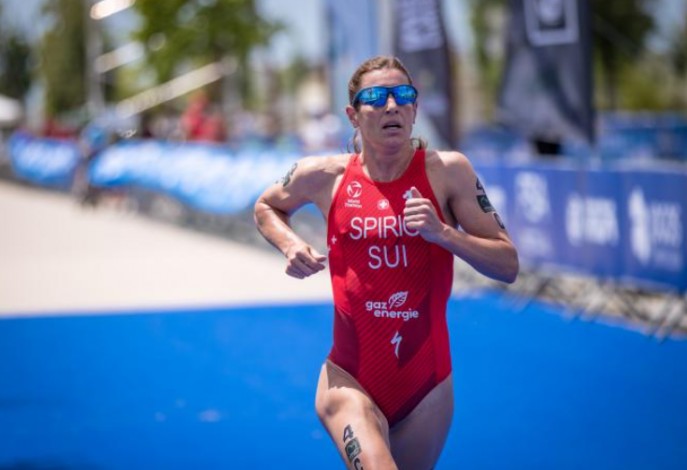 Today Sunday, the last day of the Triathlon World Cup in Lisbon with the female elite test.
After Belgium's victory in the mixed relay event and the Norwegian Kristian Blummenflt Yesterday in the male elite, some of the best athletes on the world circuit have participated in the event.
As for the Spanish Triarmada they have taken the exit Carolina Routier, Anna Godoy y Marta Pintanel
Today's test began with the 1.500-meter swim where the first out of the water was Summer Rappaport followed by Chloe Pollard and Natalie Van Coevorden at 3 seconds leading a very stretched group where Routier and Godoy came out at 22 seconds.
In the cycling segment, two groups were formed with 20 triathletes in the first laps joining in the final part of the segment with the favorites.
Upon reaching T2, this group with 19 units was more than 2 minutes ahead of the group behind, where the Spanish Routier and Godoy were.
In the race on foot the Irish Carolyn Hayes tried to leave from the beginning although behind her were followed by Nicola Spirig and Vicky Holland.
When passing through the 5 kilometers Hayes was still in the lead followed 5 seconds by Spirig. Behind were Kasper, Kretz and Rappaport 15 seconds behind.
On the last lap Spirig managed to catch up with Hayes and we could see an exciting finish with several changes of pace so that finally Nicola Spirig took the victory with a time of 1:59:05
The second classified has been Carolyn Hayes (1: 59: 17) followed by Kristen Kasper (1: 59: 39) in third position
As for the Spanish Anna Godoy It has been 24º and Marta Pintanel 46º, Carolina Routier the test has not finished
Nicola Spirig adds another gold to her phenomenal resume to win in #LisbonWC

Carolyn Hayes Ireland earns silver and Kirsten Kasper USA claims the bronze medal.https://t.co/JwsigQVZc7 @NicolaSpirig @tri_ireland @KirstenKasper pic.twitter.com/gYN3WudPh5

- TriathlonLIVE (@triathlonlive) May 23, 2021
Classification
| | |
| --- | --- |
| Athlete | Time / Difference |
| Spirig Nicola | 1:59:05 |
| Carolyn Hayes | 01:59:17 +00:00:12 |
| Kasper kirsten | 01:59:39 +00:00:34 |
| Annen jolanda | 01:59:55 +00:00:50 |
| Holland vicky | 01:59:56 +00:00:51 |
| Kretz amelie | 02:00:09 +00:01:04 |
| Pedersen Alberte Kjaer | 02:00:21 +00:01:16 |
| Klamer rachel | 02:00:25 +00:01:20 |
| Rappaport Summer | 02:00:30 +00:01:25 |
| Coninx Lea | 02:00:39 +00:01:35 |